Introduction
E-commerce has fully and utterly grown to become an unstoppable force. It has transformed the landscape of retail. With many shoppers who shop on the internet than ever, more and more medium-sized enterprises are running successful and profitable digital businesses. In this digital era and the current retail climate, it is important that businesses of all sizes set up an e-commerce store for maintaining a competitive edge within an already soaked world. At its core, setting up an e-commerce store will enable you to market anything you want, directly to the target audience, letting you sell products and services without having to use a third-party. But enjoying such perks comes from picking the right e-commerce platform for your enterprise.
Why Shopygo?
Though there is a heap of options out there, a few stand out from that crowd. One such provider is Shopygo, which is designed to help retailers manage an online store easily. Below we dive into Shopygo and test all of the features of the platform, let's understand why Shopygo is a true winner.
As one ventures into the online selling space, they're expected to create an online store, upload products, engage with customers and process checkout transactions. Shopygo provides every tool they require to manage each of those activities. With all of these tools, you can open a storefront, choose a design theme, customize the layout, showcase products, manage inventory, accept payments, generate sales reports, and much more. Plus, if you ever run into a problem, the support team is top-notch, who will immediately answer your questions through email or by phone.
Testing the Shopygo eCommerce Platform
Here is what you shall expect when working with Shopygo. Let us drill down into these details, starting with looking closely at creating an account.
Register Your Store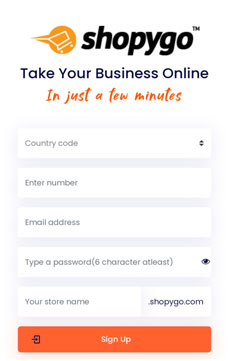 To start-off with Shopygo, simply visit Shopygo.com and register for a 7-day trial (just for $1). After filling out the form and verifying your mobile number, you'll be asked for your location.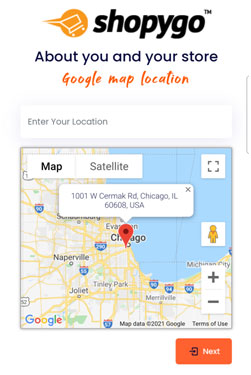 After the initial screen, you will have to enter a few more details such as your name, pin code and shop category.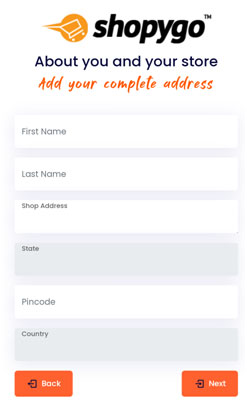 Choose Your Payment Plan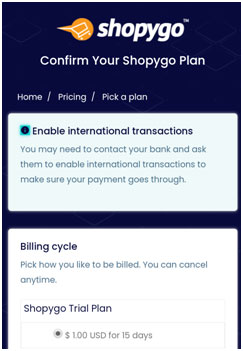 We know that there are expenses associated with operating a store. You have to spend for marketing, domain, and of course an online platform. But Shopygo has a pricing plan for all. If you are on a very tight budget, you can choose Shopygo Pro which is just $14 per month. Or if you are seeking white-glove services, you may pick Shopygo Enterprise. Also, there's a trial plan that allows you to test drive Shopygo to your heart's content without even having to enter your credit card details.
Setup Your Store in Dashboard
After registering, sign in with your details to be directed straight to the management dashboard. Here, we can see a whole range of management tools designed to streamline the everyday running of the business. With Shopygo's attractive and intuitive admin screen, you can get in-depth understanding on every aspect of your online retail business and its performance using which you can make informed managerial decisions.
In the backend of your Shopygo store, you'll find a selection of reports and features that will assist you in understanding how the business performs. You can even get real-time views of the store's visitors to know what stage in the funnel they are in. Shopygo boasts all the expected online selling tools, along with a suite of notable extras such as GST invoicing.
Customise Your Online Store
Another standout is a bunch of the professionally designed website templates. For anyone creating a new site, they probably have to spend for a theme. But on Shopygo, a free theme is loaded into your website automatically and also you can choose from the number of free themes available. When it comes to editing your store, customization options are enormous. With full access to your theme, you will be able to customize and personalize everything that you want to, including the basic layout and global appearance settings.
Unlimited Product Listing
Navigate the bar on the left and click on 'Products'. Here, you can see an 'Add a product' button in the middle of the page, where you can list unlimited products with zero transaction fees and from up to 5 staff accounts. You can add as much information as needed about your product. You can display material products like groceries and clothes, as well as services like building maintenance, mechanical service, and even IT service. There is a separate screen where you can upload multiple product images.
Built-In Marketing: SEO Optimised and Social Media Ready
You can never find anything like Shopygo that does more to elevate your position and bring your products in front of as many customers as possible. A lot of e-commerce platforms simply assist you in setting up the website and managing the products, and that is where the assistance typically ends. Shopygo takes this a step further. Now, the platform doesn't offer a ton of onsite marketing help, but it does offer a variety of promotion tools. For instance, you can easily add your store info into your existing Facebook, Instagram, LinkedIn or Twitter page. Shopygo also has rangy SEO tools you can use in your marketing strategy, including a custom URL for your website, meta description, robot.txt file, and site map.
The Final Verdict
People love Shopygo for two reasons - its sales features and ease-of-use. Keep in mind that there is bountifully more to do with your Shopygo website. It is not the most popular eCommerce platform, but it holds its own - pound for pound - in each branch.
Shopygo is built in a way that beginners and non-tech savvy people can employ it without difficulties. It comes with an already assembled website structure, so you just have to put the remaining parts (theme, products, etc.) on top to get your store running.
Shopygo wants you to succeed on its platform. Compared to a brick-and-mortar store, the length and level of the reach your business can bring about through e-commerce is honestly unparalleled. So, here's what we suggest, give it a try by taking up the trial plan.