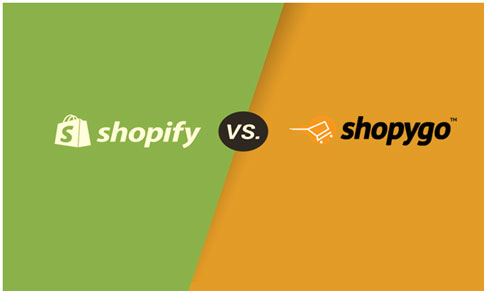 It is no secret that taking your business online comes with instant expansion of the store. Entrepreneurs are willing to dabble with top ecommerce builders considering their popularity. But what is the best one out there - Shopygo or Shopify? Our general rule of thumb is that as long as you have a huge budget and the technical know-how to flatten the steeper learning curve, Shopify works well. But if you want a powerful online store, Shopygo offers even more possibilities and options. It's a whole other beast when it comes to setting up and managing an online store.
Where Shopify shines is in the extras. While you may not be able to customize out of the box as easily as with Shopygo, Shopify makes up for it with its unbeatable range of add-ons. While Shopify can absolutely do just about anything that Shopygo can, there's a catch. Shopify is a little like a mobile phone, it's often first necessary to purchase an extra add-on app via their app store. The platform is outlier here, a bit hard to master, but the trade-off is that there is plenty of documentation to help you out.
Shopify vs Shopygo: A look at their features
As features for the two solutions goes, both offer a bundle of similar features. Both are great platforms in their own right. Although they have overlapping features, Shopygo edges forward in the race as it does with more features baked into the system. Still, it is a close call between both that will boil down to your intent. Let's head on to the showdown of "Shopygo vs Shopify". We'll look at some of their stand out features.
Long story short - Shopygo comes in at a much lower cost, making it the choice for businesses that do not need all the unnecessary bells and whistles. Its all-inclusive nature and simple dashboard makes it a smooth ride for sure. Just as Shopify has more popularity among well-established brands, it is no surprise that Shopygo pops up in the "Bubbling Under" and new entries category.
Round 1: Ease of Use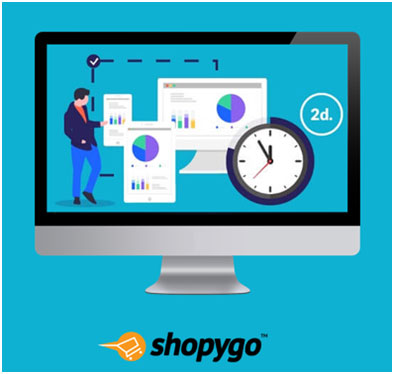 When it comes to user friendliness, Shopygo is second to none as it boasts a par-excellent level. It wins on the simplicity front, businesses that sell simple, straightforward products. Setting up a Shopygo store is insanely easy. It's point-and-click. User experience is so well implemented that you have to make a few clicks to make and configure your site. From the moment you log in, Shopygo practically hands everything to you on a silver platter. On the flipside, there's Shopify, where setting up a store is not a walk in the park, and is quite a serious affair. It is still more do-it-yourself than Shopygo. You will require a good couple of hours to configure everything right.
THE WINNER? Shopygo by a long shot.
Round 2: Marketing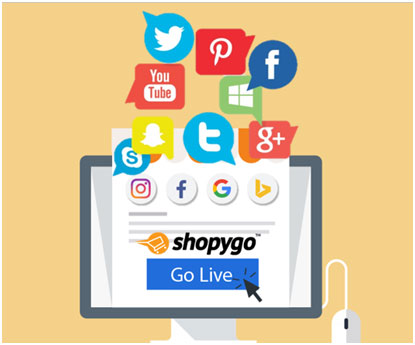 SEO is the lifeblood of any e-commerce store. Both the platforms have been developed to facilitate all-round marketing. The real toss up comes down to how easy the strategies are to implement on each platform. One of the striking features of Shopygo is that unlike Shopify, it allows you to edit the robot.txt file so you can tell Google how it should index your website. It nudges out Shopify which is a little less involved, but both platforms are manageable.
Shopygo's flexibility is also evident when speaking of advanced features. For instance, itt provides basic out-of-the-box inventory management functions, just like Shopify, but it is differs much when it comes to things like abandoned carts. There's no hard limit on the number of features that you get, while Shopify puts a hard cap no matter which plan you're on. It may be keen on the aesthetic part, but it tends to fall flat when your store's working features and functions are concerned. It doesn't include abandoned carts in the Base plan, which may sway merchants towards Shopygo, but it does offer it in the Professional or Unlimited plan.
These limitations are part of the reason that many Shopify stores feel so derivative. Shopygo doesn't limit you to those. There are no limits as to how much you can do, particularly where merchandising and marketing are concerned. Winner? no surprises here - with more native features, Shopygo takes out the round.
Round 3: Themes
While Shopify does offer some impressive themes in its catalog, there's just not a lot of wiggle room here. Though some of Shopify themes are free, the more unique ones come with a price tag. But Shopygo was created with themes and store conversions in mind. It lets you use a colossal selection of riveting templates that are way too exemplary to be putting on your site. Your business will see progress from day one. With Shopygo, you have a strong template game on the table when it comes to redesigning the look of your store, with plenty of choices that look professional and clean. There is one more thing that sets Shopygo apart. Unlike Shopify, you don't have to reformat the entire website when you change the template. You can create a mobile-first journey from the ground up with a highly responsive storefront and a customized checkout, so you are fully guaranteed a flawless website design from the start.
Round 4: Pricings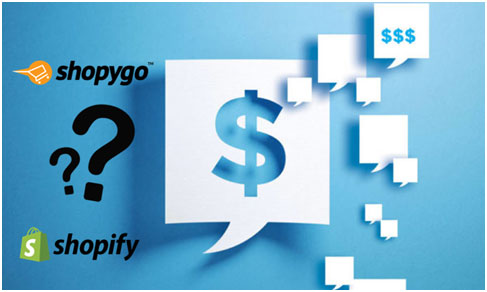 When we talk about some of the more impactful differences between Shopify and Shopygo we have to mention the cost. Naturally, it is essential to factor price into our analysis. Both the platform creators gave understood that different stores selling online have different sets of needs. They therefore offer specific plans with varying functionalities.Shopygo's plans start from $14/mo while Shopify offers plans starting from a flat monthly rate of $29/mo, With plans that are already much pricier than those of Shopygo, this may be off-putting. What if your business is somewhere in between? Perhaps you only sell one product. Frankly, it may not make sense to pay the monthly fee of 29 dollars, which can be a lot to swallow for someone selling $5 greeting cards. Finally - here's the big kicker. there are no transaction fees with Shopygo! But with Shopify, Basic plan is charged with 2% fee and add-on apps carry an additional cost as well which is a real downside.
Wrapping Up…
While Shopify's many tools do give you a good set of functionalities, you're still going to hit some walls, which doesn't happen with Shopygo. The only reason to choose Shopify over Shopygo is a good deal of flexibility and control. If you have complex requirements - Shopify is probably your best bet. If you're just starting out and plan to sell straightforward products, youprobably won't need that flexibility so Shopygo is going to be the better long-term ecommerce solution. Moreover, for people not wanting to spend much time in managing their store, then that's one more reason to consider Shopygo.
Shopify tries to appeal to both first-time website builders and tech-savvy people. It achieves this quite well, all things considered. The trouble is, by doing so, Shopify alienates the true beginners. Shopygo offers beginner-friendly ecommerce features geared towards small to medium stores whereas Shopify is developed for much bigger enterprises.
We've made it to the end of the Shopify vs Shopygo brawl, you should now have a picture of how the two ecommerce giants stack up. In a nut-shell, though Shopify makes a good attempt, Shopygo wins the crown. People would love Shopygo with its easy-to-use advanced features. Just a seven-day trial period will demonstrate just how powerful Shopygo is.