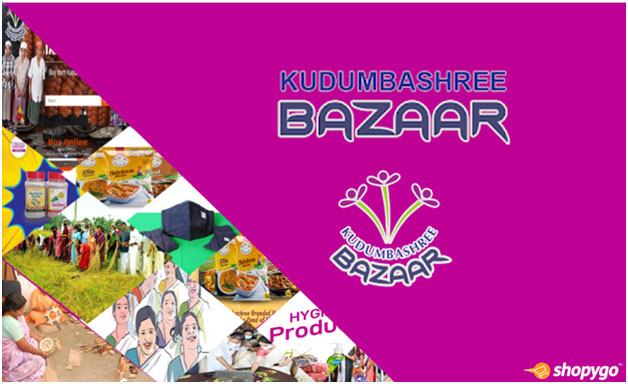 What is Kudumbashree?
Kudumbashree is a part of the State Poverty Eradication Mission of the Government of Kerala. For economic empowerment, an important strategy of Kudumbashree is Micro Enterprises Promotion & Development by supporting women entrepreneurs. The programme helps them in the formation of micro-enterprises, marketing of their products, and upgrading their enterprises to collectives and producer companies.
The Kudumbashree products include cosmetics, groceries, food products, personal care products, household products, apparel, jewellery, handicrafts, and more. The Kudumbashree community also offers services including catering, daycare, matrimonial, event management, dance school, and ladies' hostel.
As part of the mission, Kudumbashree Bazaar (kudumbashreebazar.com), an eCommerce marketplace was launched. It has been developed by Shopygo, a multinational eCommerce company that helps anyone to set up and manage an online store and sell their products.
Challenges Faced by Client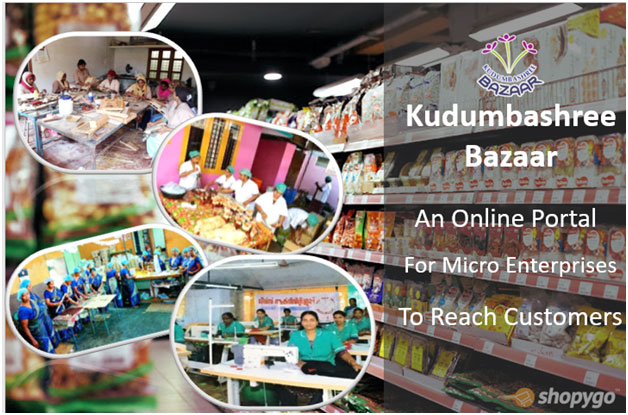 Most of the products from production units were traded completely through an offline system. They were sold through trade fairs, home shops, and monthly markets conducted at specific places. It was challenging for the micro-enterprises to reach their target customers as their market was limited to a smaller community nearby the areas of production.
Starting up an online store through mobile and web applications was the perfect solution to expand, coordinate and manage their product sales.
The Creation of Kudumbashree Bazaar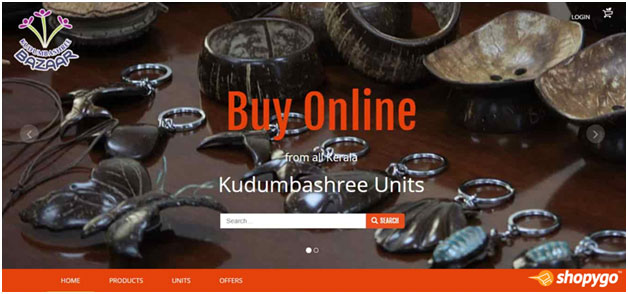 Shopygo's ability to offer inbuilt and easy-to-use solutions for out-of-the-box eCommerce models made it the right eCommerce solution for the custom requirements of Kudumbashree.
Recreating the experience and journey a consumer goes in their shopping experience was a task that had to be carefully mapped before we set out to develop a digital marketplace. To enable this, Shopygo worked in close association with Kudumbashree to understand their process.
We had been working for the past three years to build a powerful marketplace like Kudumbashree Bazaar.
With our experience in handling such projects, Shopygo could easily roll out the perfect online portal for Kudumbashree with desired changes inflow.
Shopygo Powering Kudumbashree Bazaar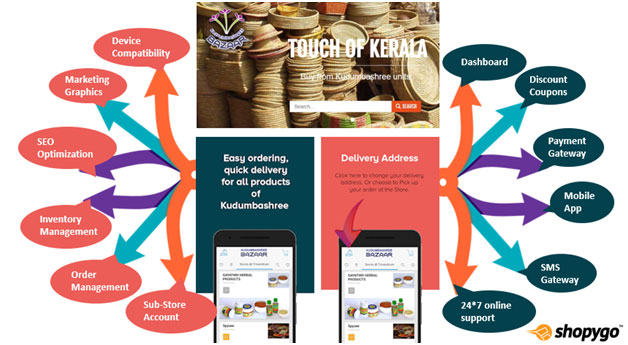 Device Compatibility
The site's responsive design ensures that Kudumbashree's online store works for customers across any device. It is compatible with all smart devices including Desktop, Android, iOS, and Tablets. This helps the buyers view the products easily, ensures buttons work when they add products to their cart and the checkout process runs smoothly.
Marketing Graphics
In their customized sub-stores, vendors add their own logos, sliders, banners, etc. Shopygo has attractive designs to persuade and guide the buyers towards making a purchase.
SEO Optimization
Shopygo has thoroughly optimized Kudumbashree Bazaar's website to generate great traffic from online search engines like Google and Bing. Our eCommerce SEO strategies help them to map their track and reach new customers in a very short turnaround time.
Inventory Management
Shopygo manages, analyses, and confirms the product availability and reports it on time to the customers to avoid any discrepancies that may occur with their orders.
Order Management
When customers place an order, the website generates a message alert to the Kudumbashree unit, District Programme Manager (DPM), and State Mission Manager.
If the unit is not able to deliver the products, a refund will be initiated.
Sub-Store Accounts
There are 14 districts where Kudumbashree operates. Each district has a number of units that are managed by DPMs (District Project Managers). Shopygo provides a back-office system for each DPM that lets them view the results based on their district alone.
Main Dashboard
Shopygo offers a simple and intuitive dashboard that gives Kudumbashree a complete overview of the multi-unit setup of Kudumbashree Bazaar. They are able to view automated reports on sales, products, and settlement.
Discount Coupons
Shopygo has set on building a seamless UI experience that allows consumers to not only browse, view, and explore products of their choice but also allows them to apply discount coupons based on their order amount.
Payment Gateway
The Kudumbashree Bazaar portal has been built such that it allows users to use the payment gateway to securely pay for their orders.
If the order gets cancelled, the DPM of that unit initiates a refund. Shopygo team helps them in refunding the amount through payment gateway. SMS notifications are used to timely update the customers.
Mobile App
The inventory, orders, payments, and shipping are managed and tracked by the customized Kudumbashree Bazaar Mobile App developed by Shopygo. Just like the web version, the mobile app is multilingual as well (English and Malayalam).
24x7 Online Support
Shopygo provides 24x7 online support for Kudumbashree Bazaar's customers through email and online chat to ensure the successful fulfilment of orders.
Shopygo's team coordinates with every District Programme Manager in handling the orders. We ensure the continuous follow-up of every order from being placed till the successful fulfilment of the orders.
Each entrepreneur is provided with various technical sessions to make them aware of the systems and their functionalities.
Wrapping Up
With Shopygo eCommerce platform, they were able to achieve the following -
Kudumbashree's Utsav festival sale is live now. Enjoy the best discounts & deals this festive season on various best-selling products. Click here to take a look at the Fest.
If you are looking to migrate from Shopify or would like more information about Shopygo's eCommerce platform, call us on 044-462-77999 or email us today. Our platform offers services such as online store creation, search engine optimization, hosting, and marketing and payment integration for small and medium-sized businesses.