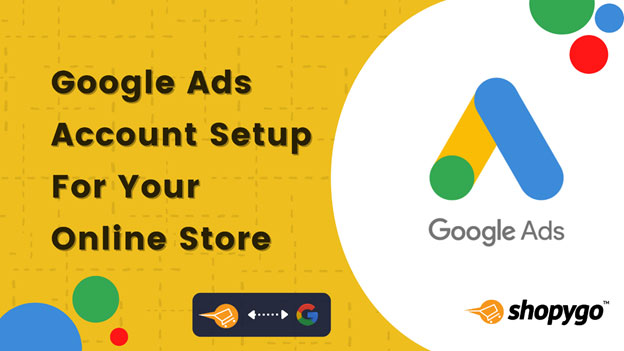 They have hundreds of social media followers and customer reviews, and are selling tons of items.
How do they do it?
Google AdWords.
AdWords and eCommerce go hand-in-hand like chai and biscuits for a good reason: it works. There is no better place to start than the internet's magic fountain of knowledge: Google Search.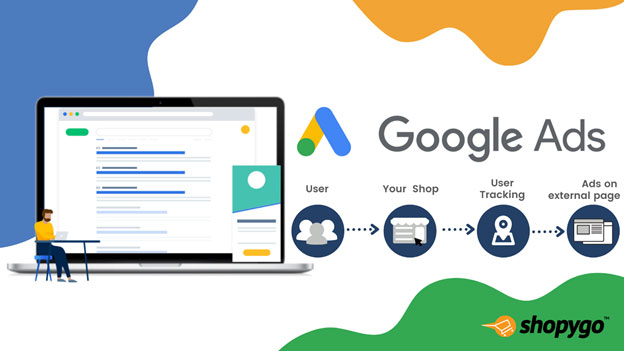 Google Ads is a tool where you can connect with customers galore. It is one of the most powerful tools in the modern marketer's handbook, providing access to literally billions of eyeballs every day. You can reach the right audience and increase your sales with a fully optimized Google Shopping Ads campaign in just a few seconds. It is especially attractive because you only pay for results: an ad only costs money when it produces measurable success like clicks to your online store website or a sale made through it.
How to Setup Google Ads Account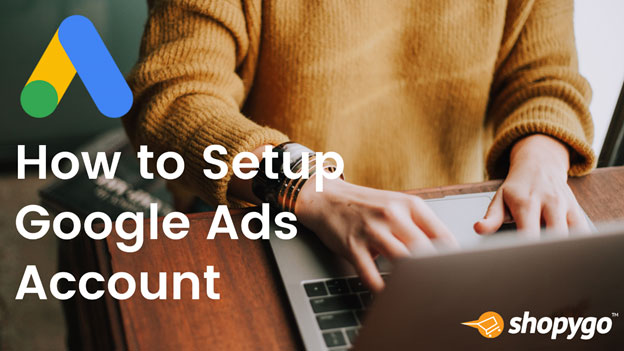 Setting up a Google Ads account is as straightforward as for any other website, and you can create one in minutes by following the steps mentioned here.
Go to www.ads.google.com/home. Click the "Get Started" button in the upper right corner and choose your Gmail account.
The next screen would say "You do not have any Google Ads accounts. Would you like to create a new one?". Click the "NEW GOOGLE ADS ACCOUNT" button.
Once you sign up, you'll be automatically brought to the page where you can create your first Google Ads campaign. If you only want to register your account without an advertising campaign, for now, you can skip this step by navigating to the bottom of the page and clicking "Switch to Expert Mode."
On the next page, click "Create an account without a campaign". Now fill in your billing country, time zone & currency; Click on the "Submit" button.
Hurray! Your Google ads account is now active. Now click on the "Explore your account" button.
How to Create a Google Ads Campaign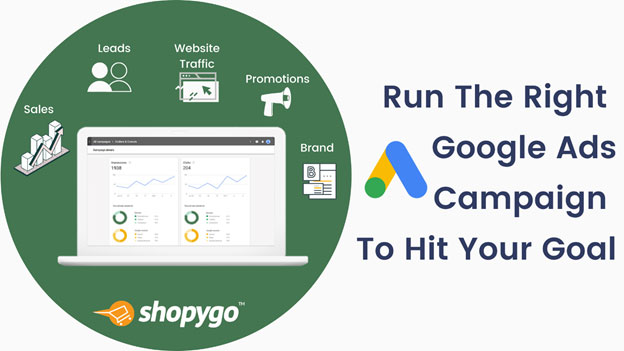 Now it's your time to shine, you can go ahead with creating your google ads.
Click on the "New Campaign" button.
Choose the "Sales" option as your advertising goal.
Select the "Search" option as the campaign type.
Select the "Website visits" option as the way you'd like to reach your goal. For now, ignore Conversion Action.
Type in a campaign name and click the "Continue" button.
On the next page, you'll be asked to select the budget and bidding options that work best for your goals. As the goal is to make more sales for your ecommerce store, "Maximize Conversions" is the way to go. AdWords will display your ads to users more likely to purchase, based on historical data. Set the highest price you're willing to pay for a customer clicking your ad through to your Shopygo store.
Select the network (Search Network or Display Network)
The next step in creating your first Google campaign is setting your geographic locations by clicking on the "Enter another location" option. You can include or exclude users based on country, province/state or city/region. When you create a campaign that targets specific audiences by location, only the users located in those regions will see your ads.
Enter the language that your target audience would prefer to engage in.
You will need to tell Google Ads your store's website you want to run campaigns for in order to get keywords suggestions
Decide who will see your ads by determining the keywords and the languages so that only the "right people" see your ads.
Write an ad that catches the attention of your audience and encourages them to click through to your Shopygo store landing page. When writing your ads, clarity trumps cleverness. There are two essential elements: A compelling headline: this is up to 25 characters; and two lines of body copy: this is up to 35 characters for each line.
Finally, you're going to choose and create your Google Ads extensions. Google ad extensions are those bits of extra important details about your online business, product, or brand that will be displayed in your ad description. These include Sitelink extensions, Callout extensions, Call extensions, and even Product reviews.
Once you have reviewed your campaign, click "Publish Campaign", which will take you to your main dashboard.
How to Integrate a Google Ads Account for Your Shopygo Store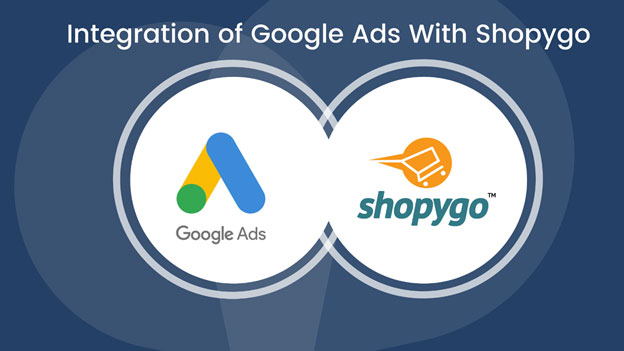 You're all set up. You're one step closer to driving paid traffic to your Shopygo store.
You can use Google AdWords conversion tracking for tracking actions taken by users on your site after they click on one of your ads. For example, with Google AdWords conversion tracking set up, you can view which one of your Google Ads campaigns generates the most sales on your website.
To set up Google Ads conversion tracking, follow the below instructions for creating a conversion action.
Go to Tools & Setting > Conversions (Under Measurement)
Press the blue icon to add a new conversion.
Once you click on the blue button for adding the new conversion, you will be landed on a window for setting up the attributes for the conversation you want to track. Choose the kind of conversion you want to track. Since we are setting up for an online store, choose "Website".
The next screen is about conversion action. The most common type of conversion action is tracking purchases. To track purchases so you can see how effective your ads are at generating sales on your online store, set them like these:
Category: Purchase
Conversion name: Purchase or Sales from Website
Value: Press "Use different values for each conversion" and add default value $2.
Count: Choose "Every"
Click-through conversion window: 30 days
View-through conversion window: 1 day
Include in "Conversions": Yes
Attribution model: Last click
When you're done creating your conversion action, click CREATE AND CONTINUE to install the global site tag in your Shopygo theme code.
Key takeaways From This Google AdWords Guide
Plan before you start. It will take some time to set up your first campaign, but as you run more campaigns, you will notice how fast ads come together. However, take the time to think about the goal of your ads in order to know what to track once they go live.
Experiment with different copy, budgets and ad types to know which ones result in a constant stream of customers flowing through your sales funnel. When you come to know your audience and what kinds of ads and content they engage with the most, you can customize your ads gradually.
Experiment with who sees your message. You can target your audience based on where they are located or where you want to sell. Consider this approach as another form of market research where the results help you refine your ad targeting to a small group before you start running formal promotional campaigns.
Running a Google Ads campaign can grow your online business quicker and add so much to your bottom line. However, it also takes efforts to optimize, maintain and experiment with new ads to see the best results. Unlike long-term strategies like SEO, you'll get immediate success with Google Ads. And while it isn't a marketing plan on its own, it's a good addition to a strong marketing strategy for your online store. Take a stab at starting your first Google Ads campaign and let us know how it works out for you!