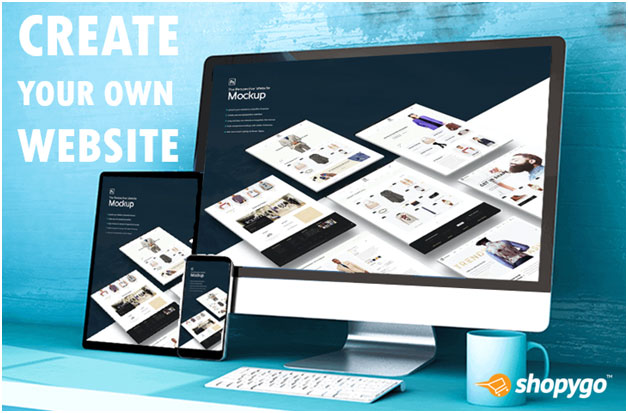 In today's world, the internet is where the majority of individuals in most markets go, especially the search engines. Considering the amount of time individuals spend on the internet, businesses too have gone online. Having a website and a social media presence has become important for business owners of all sizes. If you run a business without a website, you may be missing out on a large number of potential customers. Understanding the value of a website is key to rapidly growing your business.
Before you start a website, you should ask yourself. What kind of customers do you have and where can you discover them? Do they research products and services on the Internet? Search engines are frequently used by users to find what they are looking for. As a result, it's important for your company to be easily identified online. When users search for something they usually have a clear intention. For example, if someone searches for where to buy a t-shirt we can assume there is a clear business opportunity there. There are many ways to create an online presence. You can create a website from scratch.
Do you really want to develop a website this year but don't know where to begin or what information to look for first? Consider what you want to get out of your online presence. It could be more walk-in customers, more online sales, or more newsletter subscriptions. Alternatively, you may just want people to recognize your product or know about your business. Your purpose will determine which type of presence is more suitable. For example, if you own a physical store, a website will let thousands of people to find your store online.
As your business expands, building your own website can help it grow even more, reinforce your brand and lend your business more authority and legitimacy online. Being able to customize your website means you can arrange the store in the way that represents your business best. For developing a website, you have to be very authentic to choose the one that matches your marketing and branding strategies. So, let us discuss why having a website is so important to ensure the presence of your business?
Why do you need a website?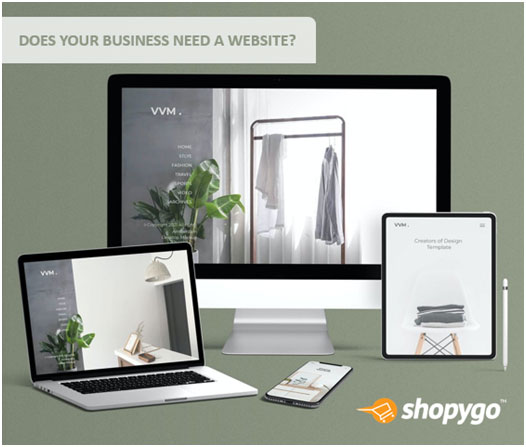 Websites have become a need and the most essential platform for doing almost everything in the digital world. While considering the importance of a website one should understand that 93 out of 100 business decisions begin with a search engine query. If you don't have a website, you are confirming only 7% of your presence when you are selling products offline. So, this means that you are reducing the size of your business by 93%. If you want to attract new consumers or simply keep the ones you already have, you need to have a website.
Nowadays, the one without a website gives the feeling that it is a poorly managed business. So, with this viewpoint the customers may think that why they should purchase from you. If you have a website, people can easily find you, learn about your company, understand what you do, and get answers to a variety of queries they may have about your business.
The importance of having a website is due to the multiple benefits and advantages it provides to all types of organizations, small, medium, and large. They are especially significant for small firms and startups because, in addition to the numerous benefits they can provide, they may also be used as a competitive advantage. Let's have a look at the importance of having a website for every business,
Online presence and identity

It is a digital era, and practically everything begins online. And it's there that everyone is. So, how can you establish your business's online presence and make it visible to all individuals who use the Internet in their everyday lives? This is where your website's importance comes in, and it's one that only a website can offer. Your website establishes your online presence and identity. You have your own unique domain name, or URL, when you create a website. This domain name and URLs serve as your online address as well as your identity. These are the means by which people learn about you and your business. Then your website becomes your own personal Internet space where others can learn about you, contact you, and interact with you. For your audience, your website serves as your business's permanent face and identity.

Single Platform

Websites act as a tool that helps you to go online. The benefit of having a website is that it allows your business to reach out to an audience while also allowing your audience to reach out to you. As you can see, a website is a single platform that can be used for a variety of activities. Your website is the tool and platform via which you may share whatever you want with your users, regardless of where they are. You may post all of your business's contents for everyone to see and learn about you and your company. The content of your website is just as important as it is what visitors read to learn about you. It is a single platform where you may share everything you want with your audience like blogs, latest news, products or services, about your company, what you provide to your customers, customer reviews etc. you can tell them a lot about yourself or your company. A website can be used to create a permanent profile for yourself and your business. You can design whatever you want, say whatever you want, and include all or any information you want to send to the people in your own unique style. A website is very flexible as it allows you to add as many pages as you want for a variety of purposes.

Build Credibility

Customers used to expect businesses to include contact information such as phone numbers and addresses in their information brochures, but now they expect firms to have a website or online presence. This is an important first step in building trust. A website is quite important for the business in this regard. Customers are more likely to trust a business and use their services if the website has superior features and functionality. Websites are an important tool for businesses to establish their legitimacy and gain customer trust. SEO services can therefore be used to attract a local audience for businesses that are relatively new to the market.

24*7 available platform

This is possibly the most effective usage of a website. Your website is up and running 24 hours for your audience. This is the most valuable benefit your website provides to your business by ensuring that it is always online and visible to its target audience. Maintaining regular and continual visibility through your website is necessary and beneficial to your business. This is because customers use the Internet all the time or at any moment of the day. So, if people want to learn more about your company or search for related information, they can go to your website and get it whenever they want. This aspect and benefit of having a website is that it allows a company to reach out to people in different time zones. All of this is a significant benefit of having a website for a business since you don't have to worry whether your office is closed, if it's the weekend, or if it's a holiday. Your website is very much online, and anyone can access it at any time. Of course, there are additional causes and benefits, but the most essential benefit of a website is that it allows a business to reach out to its customers and provides those customers with quick, 24/7 access to their website.

Increase Business Reach

In the offline world, you needed to be physically present across every location other than where you were based if you wanted to establish a business. A website allows you to visit any location in the world without having to physically visit it. A website isn't constrained by any geographic boundaries. It has the ability to communicate with anyone in any part of the world. And anyone, everywhere, in the regions, can access your website, learn about you, and do business with you. A website saves a lot of time, effort, and money. As a result, a website allows you to reach out to your customers at any time, from anywhere. A website is designed specifically for that purpose.

Easy access

A website also provides access benefits. You've probably heard that mobile phone usage is increasing all around the world. When you use your smartphone to browse the Internet, you may be a witness to this. Websites can also be made totally mobile friendly, so that individuals who want to access the Internet or websites via mobile will have no trouble accessing them.

Website- a platform for Online Marketing

In order for a business to grow, you must invest in marketing. Shopygo helps you to have a website that makes it relatively simple to spread brand awareness when people are looking for it. Let's imagine you have a successful offline firm and want to expand it online. If you have a website, you can have it appear in a Search Engine whenever someone types a keyword into the search box. A website's importance in marketing extends to every element of your digital marketing plan. Every sort of communication, piece of information, or advertisement you post online will direct the consumer back to your website, which serves as the backbone of your online presence. From search engine optimization to search or display advertising to social media marketing and advertising, content marketing, mobile advertising, and even email marketing, a business can use any online channel for marketing and advertising.

A business needs a website for everything, and you can't perform any form of digital marketing without one. Furthermore, all forms of marketing and advertising draw customers to your firm. As a result, you'll need a platform to attract customers to and offer them with all of the information they need to make a major decision. Your website is the platform on which you attract and convert visitors into customers, making it your most effective tool and platform for marketing and growth.
What a Website should have?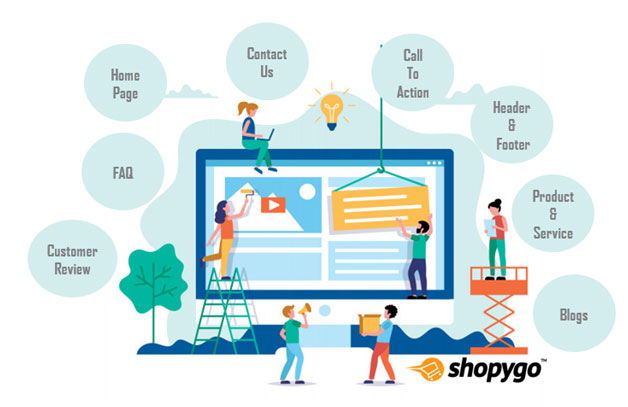 Homepage

All websites have a home page, but you must be strategic in how you present your website. This is the page that the number of customers will view initially, so it should explain who you are and what your business does. Your homepage's content should be engaging enough to hold visitors' attention for a few seconds. Your homepage should be well-designed, load quickly, and have a professional appearance.

Header and Footer

The business name, logo, and a menu that allows users to visit the website's content are all included in the header, which appears at the top of the page. The footer is positioned at the bottom of the website and is used to display content. It may include links for easy access, such as social media icons, contact us, and privacy policies, terms and conditions, etc.

A privacy policy is required for any website. A privacy policy informs website users about what you will do with the personal information they provide. On this page, explain how any personal information and data acquired like advertising, cookies, emails, etc. will be used, as well as if it will be shared with third parties.

A terms of conditions page, like the privacy policy, is normally required for most websites. This is a page that points out the "rules" that a customer to your site must agree to follow in order to use it.

Social Media icons is a tool that allows you to link your website to social media sites like Twitter, Facebook, Instagram, Pinterest, LinkedIn, Google+ etc. It allows you to manage information about your profile, such as follow and share buttons.

About page

People do business with other individuals, and customers are interested in learning more about the people who run the business. The about page of a website is frequently one of the most visited pages. This page should give a quick overview of who you are, your company's history, and what sets you apart from your competitors.

Products/services page

This is your chance to provide information about the products you sell. Before listing your products, start the page with a brief summary. Try categorizing your products information in product pages if you sell lots of things and have a huge amount of information on each one.

If it's a service here you can provide information about the services you offer. Before defining your services, start the page with a summary. If your services are broad and the descriptions are lengthy, consider breaking them up into pieces and including a link to a landing page where readers can learn more about a specific service.

FAQ page

The FAQ page is where you can find answers to the most frequently asked questions. The FAQ page will provide everyone with all of the information they require on a single page. This will save you time from having to answer the same questions over and over again. Give accurate answers to each question. Your responses should be a call to action, encouraging a potential consumer to take the next step and purchase what you're selling.

Testimonial/Review page

It's the place where you'll find written reviews about your business from happy customers. It's technically a customer's input, but most of the time it's positive comments and recommendations, making it a very effective marketing tool for your business.

Contact us page

It is critical that detailed contact information be readily displayed on your website. This is an effective method for enhancing the business's image. Your contact page should list all of the ways that potential consumers can contact you. It's also crucial to provide your phone number, email address, and physical mailing address in the footer of every page on your website.

Blogs

Having a blog should be all about providing valuable content to your audience; it's like sharing views, ideas, and information that benefits the community in some way. When you create a blog, it shows who you are on the website; the content of a blog includes text, images, videos, and sharing information with a group of individuals or the general public.

CTA

A call to action is used in business as part of marketing to get your target market to respond through action. It is aimed to obtain an immediate response from users reading or hearing from your website. Make sure your website has all of the relevant Call to Action (CTA) indicators. These lines are helpful for directing visitors to actions such as making an online purchase, receiving discounts, subscribing to your newsletter or promotional emails, and so on.
How to arrange a Website?
If you own a business, your website is unquestionably one of the most significant tools you can use to attract more - and better - clients and consumers. So, what distinguishes a good website from a poor one? Here are some characteristics that a website must include.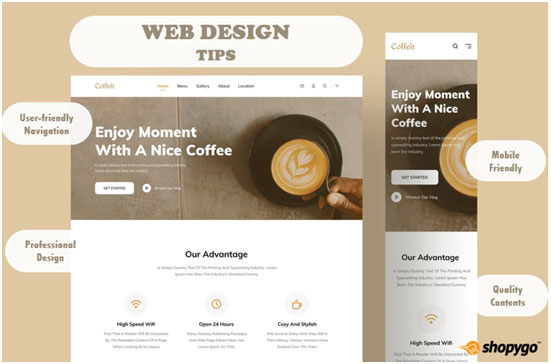 User-friendly Navigation

Customers should be able to find what they're looking for on your website without having to scroll around a lot. Navigation menus should be simple and concise, allowing users to quickly find what they're looking for. The menu elements should be easily accessible from any page, and the website design should be simple to navigate. A site map is a good concept, and if one is available, it will be used. This may seem basic, yet most websites could need some work in this area. Remember that there's a thin line between an interactive menu and one that's intrusive, so focus on efficiency.

Professional Design

The general appearance of your website is, of course, an important aspect of web design. These broad words cover a wide range of reactions you want your potential customers to have. Because first impressions matter, you want to impress your target audience as soon as the website loads. Users establish opinions about your website or business in less than minutes, and this will influence whether they will remain around. That means your design should be straightforward, familiar, simple, clean, and accessible, to list a few soothing qualities. Offer lots of whitespace for your site's parts to breathe, and use grid-based designs to keep design elements structured and in order.

Quality Contents

It is not an exaggeration to suggest that content is important to the success of any website. High-quality data is the only way to go. Only high-quality content can interest users, whether it's for marketing purposes or to provide them with important information. It's nothing more than a necessary tool for effective lead growth. High-quality content increases the chances that your customers will learn about your company and use your services, purchase your products, and so on.

Mobile website

Because mobile traffic accounts for over half of all web traffic, having a good mobile experience is essential. You'll lose customers if your site doesn't load quickly and provides a pleasant user experience. Make sure to generate mobile-friendly websites.
Summing Up…
A website can serve as a portfolio for a business. This can be beneficial for businesses because the website may serve as a reference for possible investors, allowing them to learn about your services, what you have accomplished thus far, and what your business plans are for the future. As a result, having a website is now more important than ever for almost all types of businesses to remain competitive and visible to their target audiences. If you, as a business, want to relaunch your business and its activities, you must first create a website, if you don't already have one.
Why not build an online presence if you don't already have one? Take the first step toward marketing your business today right now with Shopygo.