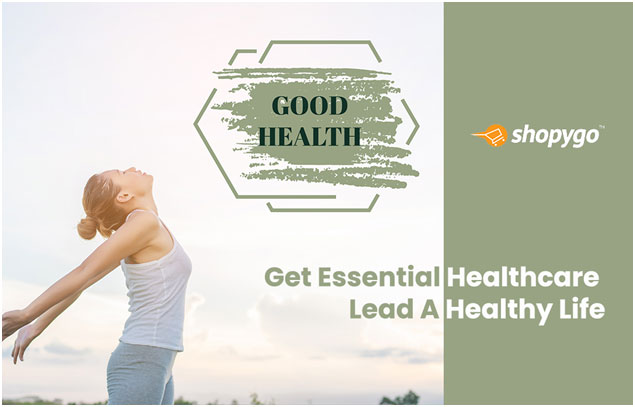 Healthcare system and services consist of medical professionals, organizations, and ancillary health care workers and products which provide medical assistance and care to those who need it. Patients, families, communities, and entire populations are all served by the healthcare system. The healthcare system covers emergency, preventative, rehabilitative, hospital, diagnostic, primary, palliative, and home care services.
The purpose of all these services is to make health care more accessible, high-quality, and patient-centered. For delivering successful health services, different types of care and providersare required. But, many healthcare products, drugs, and equipment are required for the achievement and survival of a successful healthcare system.
Healthcare products are identified as a vital component of health-care system and services. They're very important for preventing, diagnosing, treating, and rehabilitating illnesses and diseases in a safe and effective manner, therefore the benefits they can serve are rising. Manufacturing, regulation, planning, assessment, acquisition, and management of these products are complicated, but it is necessary to ensure their quality, safety, and compatibility with the environments in which they are used.
COVID-19's pandemic condition has created an unexpected worldwide crisis, resulting in millions of deaths, public health system shock, and economic and social disruption, disproportionately affecting the most vulnerable. While vaccination has completed in numerous countries, new outbreaks and variants are continuing to emerge. Due to the uncertain economic picture, millions more people are still at risk of dying, suffering major illness, or losing their jobs.
Medicines and health-care protectionproducts are critical for resolving current pandemic as well as all health issues and improving people's quality of life. In the prevention, diagnosis, and treatment of diseases, as well as the reduction of disability and functional inadequacy, healthcare products are an important component of healthcare systems.
How the Global Market of Healthcare Products expanded?
The market of healthcare products has grown fast; following the technological trends in healthcare for improving the people's welfare. There are around 10,000 distinct types of healthcare products available around the world today. The countries of the American area represent a significant market for medical equipment; in fact, this sector has had rapid annual growth in some countries. The countries import more than 80% of their medical products, with a few exceptions. However, countries' primary priorities remain patient safety and access to high-quality, safe, and effective medical technologies.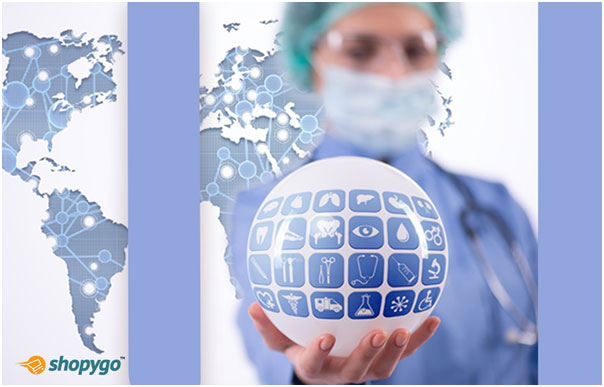 Health authorities now have a wide range of options when it comes to very powerful, technologically difficult, and new medical devices. In addition to having more options, authorities must consider the devices' technological complex nature, global and competitive markets, increased marketing of used and reconditioned equipment, reuse of single-use devices; ever-increasing use of devices in physician's offices and at the household level and the need of establishing a post-marketing surveillance system.
Global health services have seen extraordinary demand during the COVID-19 outbreak. Clinical engineers at hospitals have been severely stretched due to low supply of medical devices and equipment, and many essential professionals in health and social care have encountered crippling shortages of personal protective equipment.To ensure public health benefit and the safety of patients, healthcare professionals, and the general public, regulatory systems need to provide access to high-quality, safe, and effective medical devices, as well as restrict those products that are unsafe or have limited clinical use.
As a result, in 2020-21, there was a significant increase in the production of healthcare products, particularly personal protective equipment. Initially, the emphasis was on safety and functionality, but this eventually switched to a longer-term, sustainable focus and, more recently to increased security and protection built into protective equipment.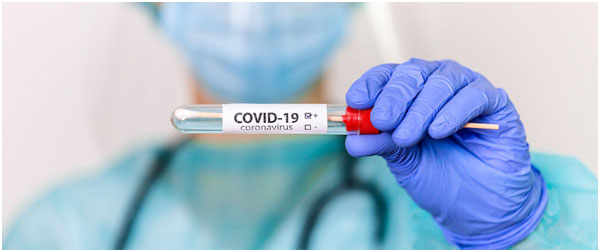 New partnerships and high levels of innovation have emerged from the race to source and manufacture more healthcare products. Most countries brought together technology and engineering companies from the aerospace, automotive, and medical sectors, as well as the general public, to create and secure the supply of medical products. The urgency of product outages prompted several organizations to respond.
During the lockdown period, many countries those were importing health care products from across the world fall into medical equipment shortages. At this phase they began producing products own their own. New companies came up for healthcare equipment production and companies that had never previously produced medical or healthcare items also redesigned their manufacturing processes to do so.Thus, the global market and demand for healthcare products are now rising day by day. Now let's have a look on some of the important types of healthcare products whose demand has increased today.
What are the most demanding Healthcare Products today?
Depending on the individual and the severity of the health issue, each health issue requires a different amount of care. Healthcare products have been categorized into numerous categories based on the level of care a patient requires. Healthcare products are described as substances that provide energy or improve one's health. Because of the current competitive market, health-care providers are always looking for improved products and methods of delivery. The term "health care product" is often used as a service.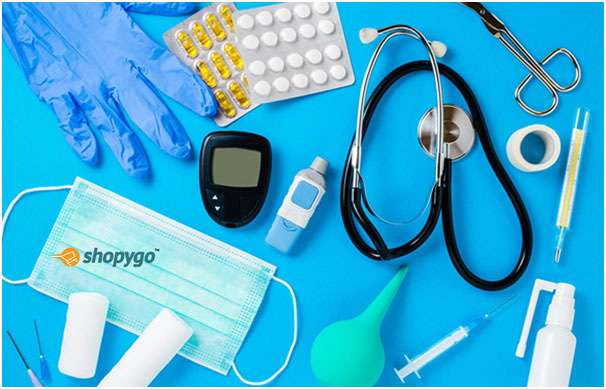 The demand for healthcare products is expanding as a result of changing consumer behavior, with a rising preference for non-traditional health care systems. Consumers are increasingly seeking to have their healthcare needs serviced remotely, in the comfort and privacy of their own homes. They want their healthcare providers to place a high priority on following safety protocols. Moreover, they are open to a deeper relationship with providers with whom they have developed trust and comfort. Some of the most widely demanding products in healthcare system today are classified under the following 5 categories.
1. Personal Protective Equipment(PPE)
Personal protective equipment, or "PPE," is the equipment worn to reduce exposure to the risks that might result in significant biological hazards, health injuries or illnesses. These injuries and diseases can be caused by environmental and workplace situations. Gloves, safety glasses or goggles, shoes, head covers, earplugs or muffs, hard helmets, respirators, coveralls or gowns are examples of personal protection equipment.
In health-care environments such as hospitals, doctor's offices, and clinical labs, personal protective equipment (PPE) is widely utilized. When used properly, personal protective equipment (PPE) functions as a barrier between infectious elements like viruses and germs and your skin, mouth, nose, and eyes. Pollutants cannot be transmitted by blood, body fluids, or respiratory secretions because of the barrier. Patients who are at high risk of infection as a result of a surgical treatment or who have a serious medical condition are also protected by PPE from being exposed to substances or potentially infectious material brought in by visitors and healthcare professionals.
During the early phases of the current Covid pandemic, the demand for quality-assured personal protective equipment (PPE) soared. As the competition between countries grew, supply restrictions became more severe. UNICEF organized a combined tender on behalf of 13 UN organizations to negotiate long-term PPE supply arrangements to assist relieve the crisis. These agreements increased affordability and access while also lowering the danger of stock-outs in the event of future health crises.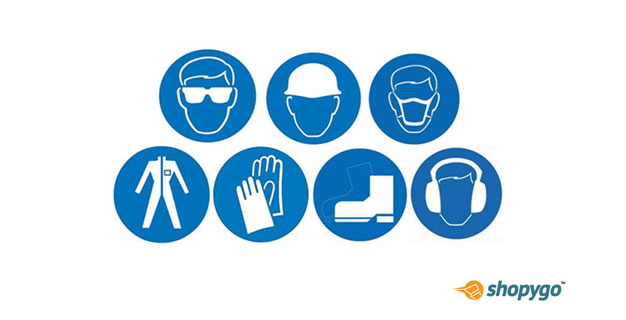 Personal protection equipment, notably medical masks, is widely worn by people all around the world. PPE, on the other hand, encompasses far more than a pair of surgical masks. This category includes gowns, goggles, gloves, face shields, and other items worn by frontline health care and other vital professionals.The proper use of good quality PPE is important to prevent exposure to all harmful diseases, including COVID-19.
When used appropriately with other infection control measures like as hand washing, the use of alcohol-based hand sanitizers, and the concealment of coughs and sneezes, PPE help to prevent the spread of infection. To avoid infecting both the user and others, effective PPE use includes correctly removing and disposing of infected PPE.
Gloves, aprons, long-sleeved gowns, goggles, fluid-repellant surgical masks, face visors, and respirator masks are examples of PPE used in healthcare. The level of risk of transmission to and from the patient is used to determine whether personal protective equipment (PPE) is required. For human protection in healthcare environment and other high-risk professions, different types of PPE are manufactured, to reduce the risk of confronting any injuries, hazards or illness. These comprise:
Eye Protection with safety glasses, goggles
Respiratory Protection consisting of surgical masks, respirators
Hearing Protection with ear plugs, noise bands, acoustic foam
Face Protection with face shields
Head Protection with helmets, hard hats, head covers, caps
Hand Protection with gloves, wrist cuffs, sleeve covers
Body Protection of gowns, full-body suits, coveralls and coats
Foot Protection with safety boots, concealed shoes, shoe covers etc.

Some of the important types of Personal protection equipment used in healthcare widely are as follows:

Gloves

In healthcare system, medical gloves are used by healthcare personnel to prevent the spread of diseases or infection. They are disposable and include patient examination gloves and surgeon's gloves. When patients require transmission-based measures, gloves should also be used. Growing use of gloves in healthcare has resulted from increased knowledge among healthcare professionals of the potential for gloves to give protection against certain harmful bacteria.

Gloves, on the other hand, can be misused, and failure to remove them at the proper time and perform effective hand washing might raise the risk of infection transmission to susceptible patients. Gloves are also a part of healthcare and safety in laboratories, cleanroom environments and industrial environments. Proper use of safety gloves is essential requirement in all hazardous environment.

Face Masks

Masks are one of the most popular healthcare items nowadays. While there is no known treatment for the COVID-19 pandemic, there are a variety of strategies to protect yourself and others from infection. Wearing a mask is one of the most effective ways to avoid COVID-19 infections.

The usage of masks has increased in recent months, but it is the 'correct' use of the mask that is more important, not just its use. The three most popular forms of masks are cloth masks, surgical masks, and N95 respirator masks. It is not recommended to reuse the masks after the first use. If you want to reuse a mask, make sure it's completely dried and disinfected before using it again.

Gowns, Coveralls and Coats

Disposable Plastic Gowns, Coveralls or Coatsare designed to protectclothing from moisture soiling during direct patient care. Coveralls are full body suits used for healthcare and protection. In the majority of cases, plastic gowns or coveralls are appropriate for standard precautions. In some cases, where contamination of blood / body fluids is anticipated e.g., maternity units, ED units or when the patient requires a significant amount of direct care with close skin-to-skin contact, a long-sleeved fluid repellent gowns are more appropriate.

When selecting the most appropriate protective clothing for Gowns or Coats, you should consider all of the available information on recommended protective clothing, including the potential limitations. Nonsterile, disposable patient isolation gowns, are used for routine patient care in healthcare organizations. Coveralls and Coats are used on medical and industrial healthcare situations.

Face Shields and Goggles

Goggles are safety glasses that are secured around the back of the head using a strap that runs around the back of the head and fits securely to the eye, frequently with suction. Goggles are worn to protect the eyes from particles, chemicals, water, glare, and other objects that could harm them. Since they minimize the spread of infectious diseases, they are suggested as primary eye protection. In medical and laboratory environments, a face shield is a piece of personal protection equipment (PPE) that protects the wearer's complete face (or portion of it) from risks such as flying items and road debris, chemical splashes, or potentially infectious materials. A face shield is designed to shield the wearer's eyes and partial or complete face from hazards.

Bouffant Caps and Head covers

A bouffant cap is a loose cap with a puffy form that is normally tied around the head with an elastic and is widely used to confine stray hair in cleanrooms, food service, and other situations. Caps and headcovers are the most commonly worn in hospitals, and their use is not limited to nurses and surgeons; hospital patients are also required to wear caps or headcovers when undergoing any type of surgery or treatments.

Shoe covers

Disposable shoe covers are a sort of personal protective equipment (PPE) that is frequently used in environments that require a sterile atmosphere. Medical Shoe Covers protect both the shoes and the floor. Spills can happen at any time in a medical setting. Hospital shoe covers are necessary to prevent unattractive stains and unhygienic conditions. When you need to protect yourself, others, or items from contamination, they're commonly employed in medical, laboratory, and clean room situations. The type of safety shoe covers you need is determined by your needs and the environment you're in. The key is to understand what you need to be protected from and to take the necessary steps to defend yourself.

Sleeve covers

Personal protective equipment (PPE) such as protective sleeves is required in a wide range of industries and workplaces. Protective sleeves are designed to protect the wearer from certain risks, and are most commonly used to defend against abrasion, slashing, electric shock, chemicals, or heat damage. Sleeve Covers are designed as the outer layer cover for protection of your sleeves from harmful contacts.
2. Medicines, Health Supplements and Vaccines
Medicine is concerned with the alleviation of pain and suffering, the promotion of health and disease prevention, the postponement of death and the promotion of a peaceful death, as well as the cure of disease and the care of those who cannot be treated. In theory, managed care as a system of integrated healthcare delivery aimed to limit costs is not incompatible with the purposes of medicine, but it may be in practice, depending on whether profit is sought, whether physicians' medical judgement is safeguarded, and whether government rules supervise managed care practices to prevent abuse and improve quality of care.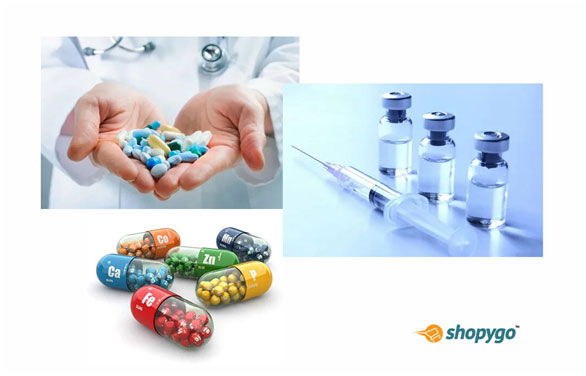 Vaccines helps your immune system on how to produce antibodies that protect you against diseases. Vaccination is much safer for your immune system for treating infections. Your immune system can often defend you for many years once it has learned how to combat a disease. When a large number of people are vaccinated, the disease is less likely to spread to those who cannot receive immunizations. For example, people who are ill or have a weak immune system.
Health supplements are products that are used to supplement a diet with benefits beyond those provided by regular foods, as well as to support or sustain the human body's healthy functions. It must not be an injectable or a sterile preparation, such as injections and eyedrops. It can't be part of a meal or part of a diet.
3. First Aid Products and Kits
A first-aid kit is a collection of supplies and equipment for administering medical care. The contents of first aid kits vary widely depending on the knowledge and experience of individuals who put them together, the different first aid requirements of the location where they may be used, and differences in laws in that area. Depending on whether they are commercially produced or assembled by an individual, a First Aid Kit can be assembled in nearly any form of container.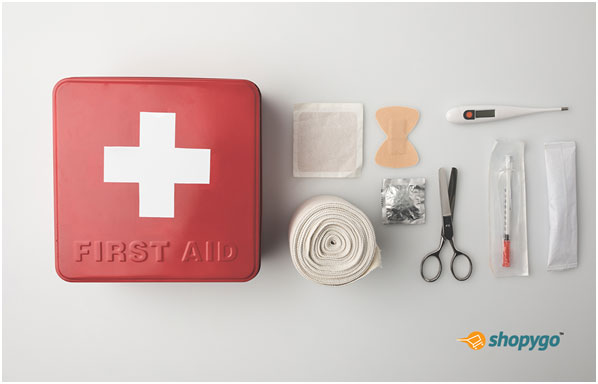 Standard kits are frequently packaged in sturdy plastic boxes, fabric pouches, or wall-mounted cabinets. The size of the container will vary based on the function, and it will range from a wallet to a large box. Traditionally, commercially accessible first aid kits sold through traditional retail channels were only supposed to cure minor injuries. Adhesive bandages, regular strength pain medicine, cotton, and a low-grade disinfectant are typical contents. Specialized first aid kits are available for different regions, vehicles, and activities, and they may focus on specific hazards or concerns associated with the activity.
4. Laboratory and Clean room equipment
Laboratories require a wide range of equipment and instrumentation in order to conduct tests and conduct research on healthcare services. These common pieces of workhorse general lab equipment can be found in a variety of disciplines and markets. Pipettes, scales, centrifuges, Bunsen burners, freezers, hot plates, incubators, coolers, stirrers, water baths, and fume hoods are just a few examples of general lab equipment.
Cleanrooms are utilized in almost every industry where tiny particles can disrupt production. They come in a variety of sizes and complexity, and are widely employed in semiconductor production, pharmaceuticals, biotech, medical device manufacture, and life sciences. Cleanroom equipment is used in hospital environments and medical facilities for a variety of reasons, including healthcare-associated infections. Cleanroom technology is essential for hospitals and medical treatment facilities since the risk of hospital-acquired infections is on the rise.
Cleanrooms and controlled environments have long been a part of hospital surgical suites and pharmacy units. Many hospitals have recently begun to install cleanrooms in burn units, isolation areas, quiet rooms, and even corridors that are frequently exposed to bio-hazardous materials. Cleanrooms are required in hospitals, particularly surgical units. This is to ensure that both airborne particles and germs are under control, reducing the risk of infection and ensuring patient safety.
5. COVID-19 Healthcare Products
Due to the current pandemic crisis, the demand for health products is increasing day by day. The most important products among them are the following:
PPE kit

A personal protective equipment (PPE) kit is a comprehensive collection of safety equipment for healthcare and biological hazard protection. It consists of a number of components that ensure that practically every portion of the human body is covered and protected from microorganisms.

The components of a PPE Kit will vary depending on the situation and your requirements. A body suit, mask, caps, safety goggles, disposable gloves, and other items are included. Due to the current Covid epidemic, these personal protective equipment (PPE) kits are in high demand. A PPE kit is only intended to be used once.

Personal Cleansing Wipes

During the COVID-19 outbreak, the use of single-use disposable personal wet wipes skyrocketed. Alcohol Wipes are also available, which are great for incontinence and quick clean-ups. These products offer a no-rinse composition that is mild. It's infused into a silky cloth to soothe and moisturize skin. They come in resealable packs and are pre-moistened and ready to use. These are used to disinfect and clean surfaces in order to prevent the spread of viruses and other hazardous micro-organisms.

Sanitizers and Sprays

Hand sanitizer, also known as hand antiseptic, hand rub, or hand rub, is a disinfectant that is applied to the hands to kill common germs.

Hand sanitizers are typically foam, gel, or liquid in consistency. Hand sanitizers are categorized as either alcohol-based or alcohol-free depending on the active component employed. In general, alcohol-based hand sanitizers can effectively lower populations of bacteria, fungus, and some enveloped viruses when rubbed vigorously over finger and hand surfaces for 30 seconds, followed by complete air drying.

Healthcare providers highly depend on personal protective equipment to protect themselves from being infected and to prevent infection others. Due to a lack of equipment such as gloves, medical masks, respirators, goggles, face shields, gowns, and aprons, doctors, nurses, and other frontline personnel are critically ill-equipped to care for COVID-19 patients.

Prices of healthcare products have risen dramatically since the commencement of the COVID-19 pandemic. Surgical masks have increased sixfold, N95 respirators have tripled in price, and gowns have doubled in price. It might take months for supplies to arrive, and market manipulation is common, with inventories being sold to the highest bidder. The World Health Organization has distributed over half a million units of personal protective equipment to 47 nations so far, but supplies are quickly running out. According to WHO estimates, the COVID-19 response will require 89 million medical masks per month. That number rises when it comes to examination gloves.

World Health Organization forecasts that industry will need to raise manufacturing by 40% to fulfil rising global demand. Government should create incentives for companies to increase production. This includes liberalization of export and distribution restrictions on personal protective equipment and other medical products. On the other hand, many countries have started producing healthcare products in consideration with the pandemic. Many small-scale as well as large-scale industries are now entered into the production of PPE items. With the effective networking and ecommerce solutions, today, anybody can sell and buy all these products easily from across the world.
If you are looking for an effective ecommerce solution for selling healthcare products, Shopygo gives you the best solution by taking your business online. To start your own online store with Shopygo, follow this simple procedure:
1. Visit Shopygo.com
For getting started with Shopygo, go to Shopygo.com and click on the Start a storeoption on the top right corner of the homepage. Now you will be directed to the registration page.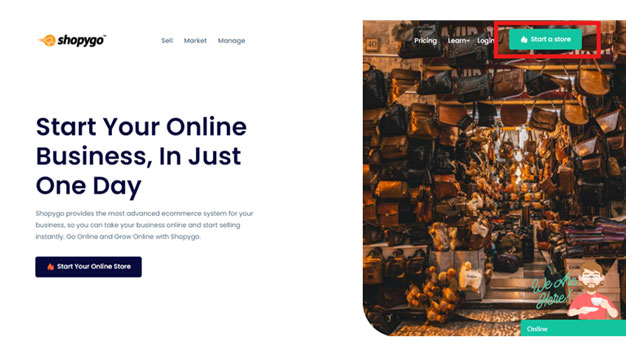 2. Register your store on Shopygo
This is the store registration stage where you need to add all the given basic details to start your online store with Shopygo.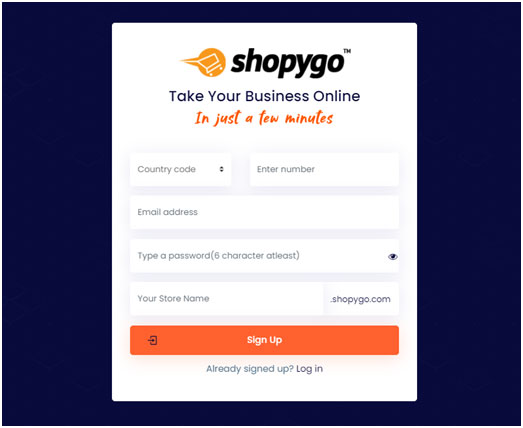 Provide the following details to register with Shopygo:
Country Code: Add your country code for the mobile number you are using for your store
Mobile Number: Give the mobile number you are using for your store operations here. Make sure the mobile number is an active one as you will require this number as a medium for logging into your account always and also to conduct your online operations.
Email Address: Provide an active email address for your store here, we will be using this mail id as a medium to contact you and to update all the store operations.
Password: Provide a strong password for logging into your online store and keep this password protected. You will require this password along with the provided mobile number for logging into your store always.
Your store name: Add your store name here in the section, this will be your domain name that appears on your online store website address. i.e. - yourstorename.shopygo.com. If it says you store name is not available, that means already a similar name exists with system, so kindly make some changes to the name and add again.
Verify all the details added and remember to note down the details added in this section. The mobile number and password provided here will be used for logging into your online store.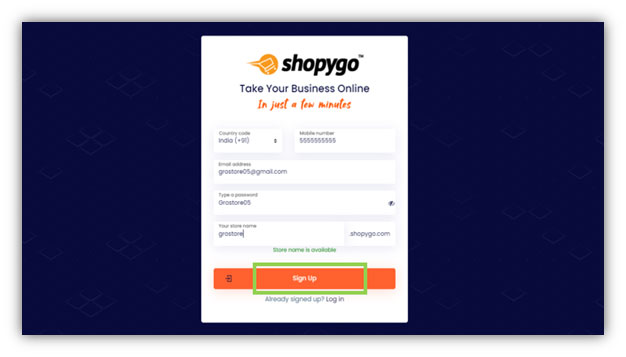 After adding all the details mentioned above, click on Sign Up button to proceed. By signing up successfully you have completed your store registration with Shopygo.
3. Verify with your OTP
After clicking on Sign Up, an OTP will be sent to the mobile number you have provided. Then you will be directed to OTP verification page. Sometimes it will take few minutes to get the OTP in your number, so you need to wait until you get the OTP. After getting it, you need to enter the OTP here in page and click on Verify OTP button.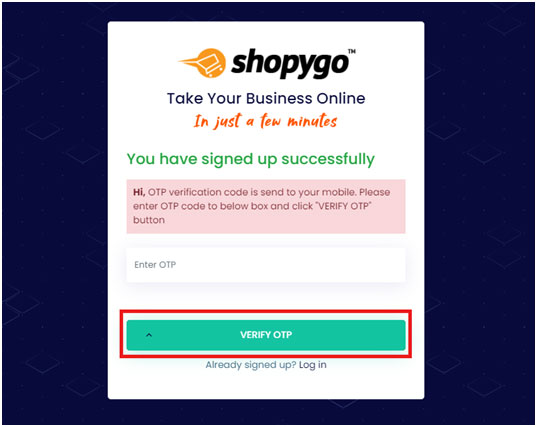 After successful verification of OTP, you will be directed to the next page to add further details of your store.
4. Add Location of your Store
In next page appears you need to enter the location of your store. You can either enter your location or add the Google map location here. After adding the location details, then click on Next button to proceed.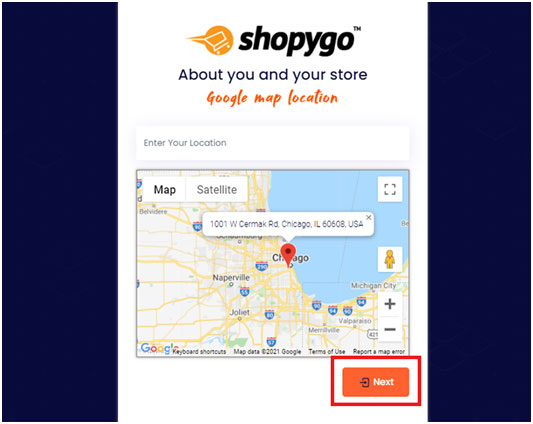 5. Add your Complete Address
After adding your location, you will be directed to the next page where you can add further details about you and your store. Here you need to add the following details:
Name
Shop Address
State
Pin code
Country
After adding the above details, click on Next button below to proceed.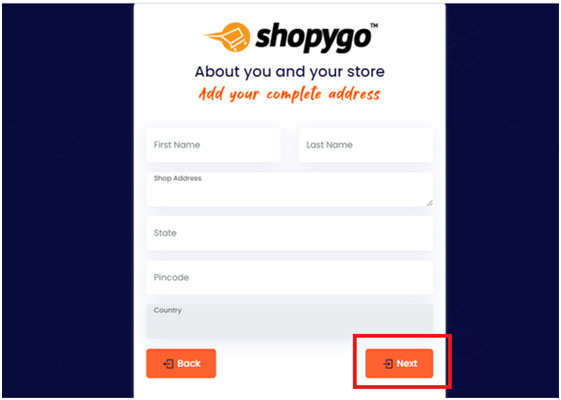 6. Add more about your Shop
After adding your complete address, you can add more about your shop in the next page. You can update your email id and shop subdomain name. Then you can add the category of our shop. Select the shop category from the option given and click on Save to proceed.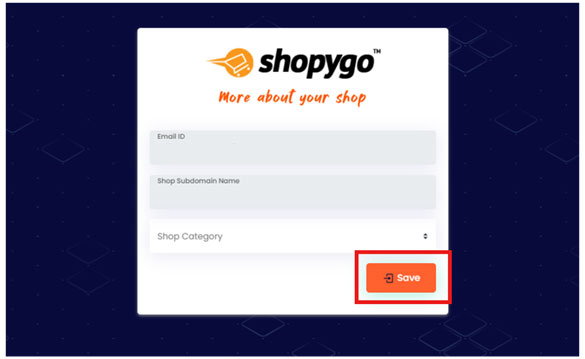 Thus, you completed adding the details of your store with Shopygo. So now the pricing page will appear. You need to confirm your required pricing plan from the available options.
7. Confirm your Shopygo Plan
Here in the pricing plan page that appears you need to pick a Shopygo plan that is affordable for you.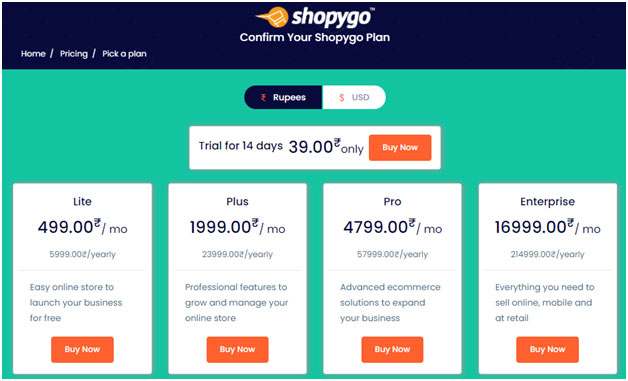 You can switch and view the pricing value in the currency you prefer, either in Rupees or in USD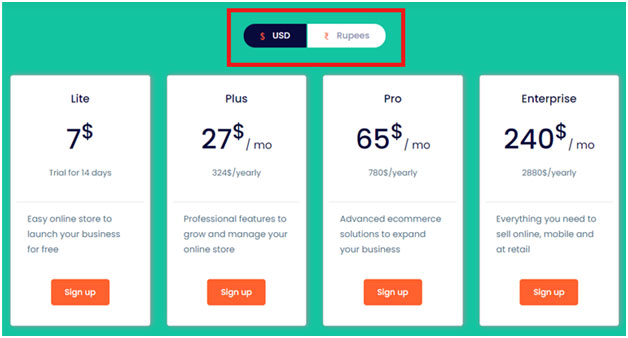 You can choose the right plan suitable for your store from the following 4 plans provided by Shopygo:
You can also get a Trial plan for 14 days, with the features of Shopygo Lite plan
Scroll down the page and there you can find and compare all the features provided in each of the Shopygo plans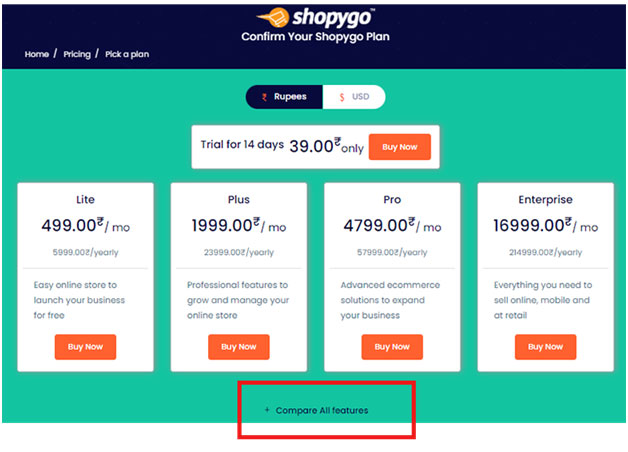 Go through the features and select a plan that provides enough features for your required online store.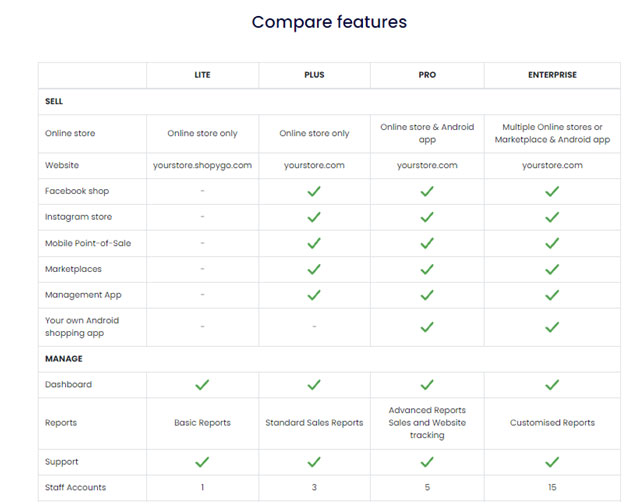 To proceed, click on Buy Now option corresponding to any plan that is right for you.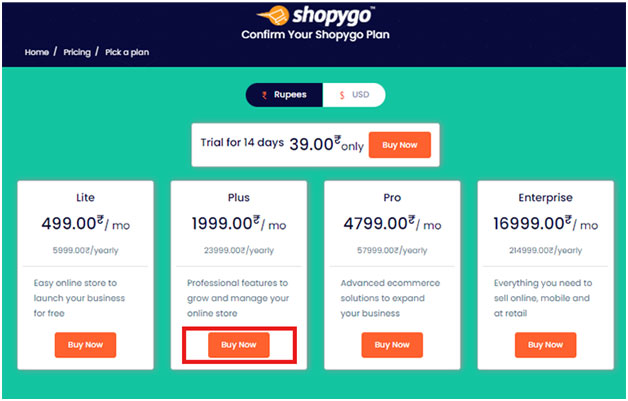 After selecting a Shopygo plan, you will be directed to Billing and Payment page.
8. Billing and Payment process
This page is divided into two sections, in the left section you can view and edit the billing details. Check all the info and ensure all of them are correct.
Check and verify the following details:
Country Name
Your Name
Shop Address
Email Address
Pin Code
Mobile Number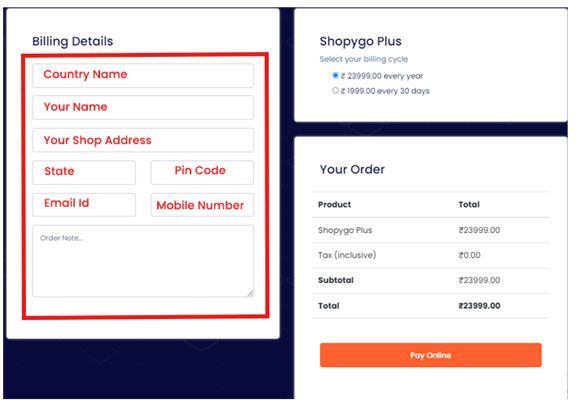 In the right section of the page, you can view the order details, i.e., the pricing of the plan you have chosen.
Click on Pay Online button to proceed to the payment of your Shopygo plan.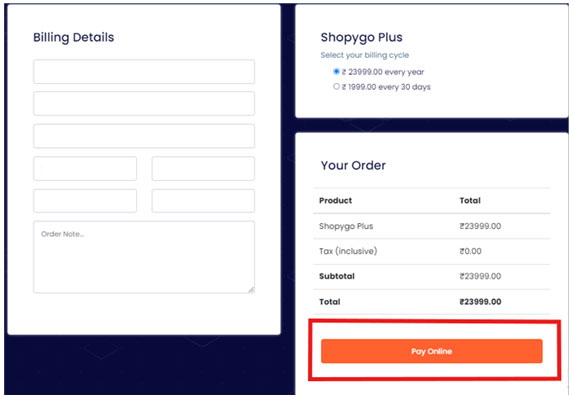 9. Select the Mode of Payment
Now the mode of payment window appears in the page. You can proceed your plan payment with different payment options like, Card, UPI, Wallets, Net banking etc. with Shopygo.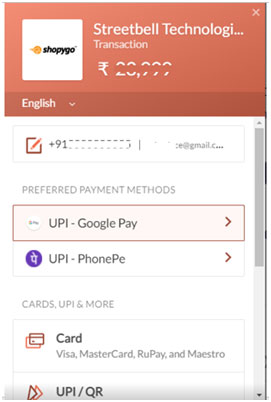 Select your payment method, enter the details and click on Pay button to complete the payment.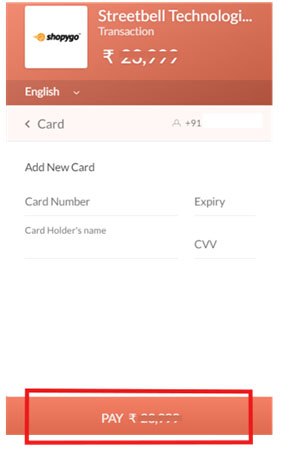 Complete your payment with the confirmation from your bank account and proceed.
10. Order Processing and Confirmation
After your payment is done, your order will start processing. It will take few moments to complete the order. The time taken for processing your order will be based on the flow of payment operations with your bank.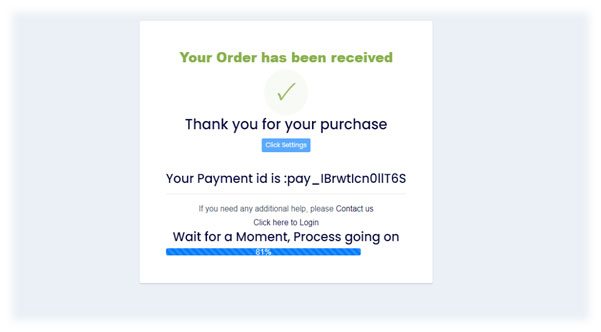 After a moment, your order will be processed completely, and an order confirmation window appears as below.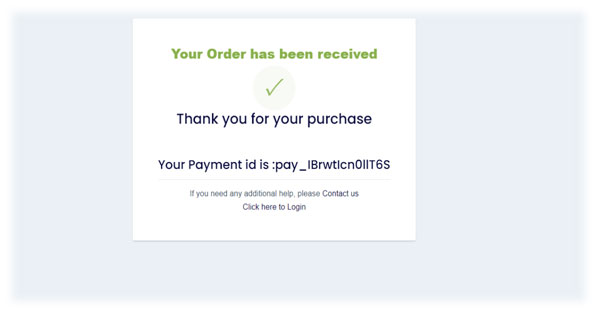 You can find your payment id here, for any future reference. You have successfully started your online store with Shopygo. Now you can easily Login to your store dashboard to start your online store operations.
Login with your mobile number and password to Login to your online store.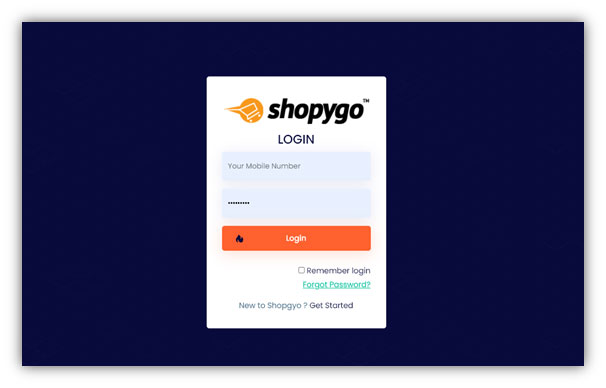 11. Add products to your online store
Login to your dashboard and go to the Products section. Simply select the Add product option from it.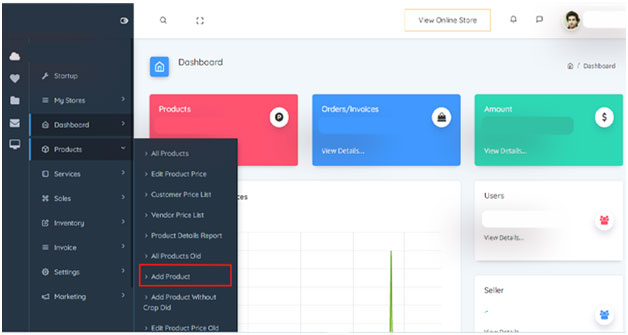 Choose your product image and upload it in the new page appears. After adding the image select and crop the image to continue.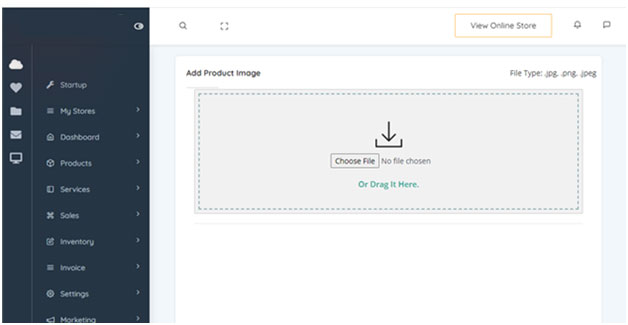 To upload the product, you can add the product name, description, category and pricing details as the basic product details to appear in your online store.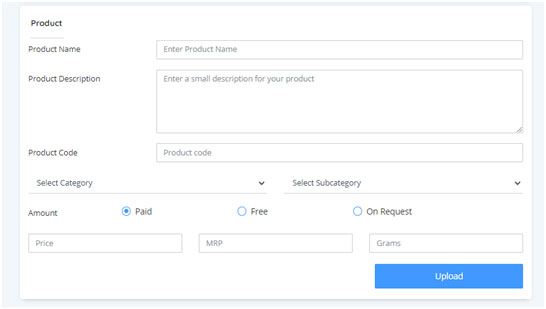 After adding the above details, you can simply click on Upload button to add the product to your store. Thus, your product will be successfully uploaded.
In the All products section of your dashboard you can find the uploaded product.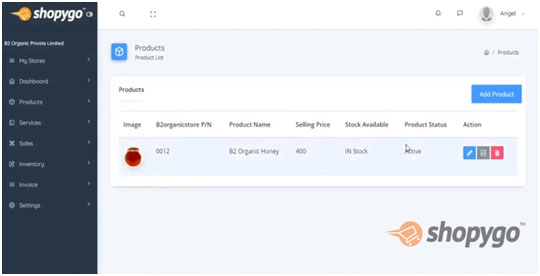 You can simply add unlimited products to your online store by continuing with these steps.