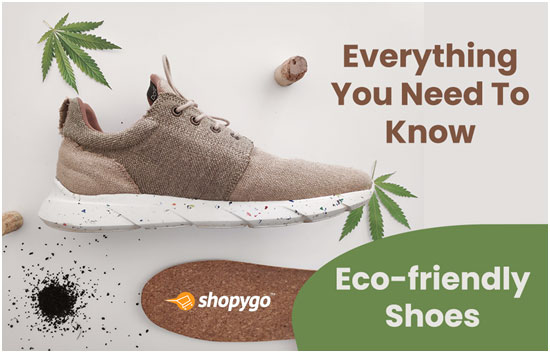 We are living in one of the most important time in human history. We are being driven to produce and innovate with new materials that are better for our environment as a result of our own environmental mistakes and carelessness. So today most people choose eco-friendly products. An eco-friendly product expresses concern for the environment and works to better the environment in a lot of formats. The global climate is changing. If you are concerned about climate change and environment, then it's natural for you to do something for earth at a personal level.
You may assist a little by using natural products and recycling your belongings. But you can contribute something to nature by changing your footwear choices. You can go for Eco-friendly shoes. Eco-friendly shoes are built of materials that are not only beneficial to environment but also,they do not pollute the air, water, or soil and degrade quickly after being discarded in landfills. These types of materials which are not harmful to the nature are called sustainable materials.
As most people prefer eco-friendly and sustainable products, many brands have recently developed this concept of eco-friendly shoes. They are beneficial to you as well as your environment. The entire concept of this eco-friendly footwear is to eliminate the creation of toxic materials, leading to reduced pollution rates.This is the sole purpose of purchasing eco-friendly shoes and not normal footwear.
Why you need Eco-Friendly Shoes?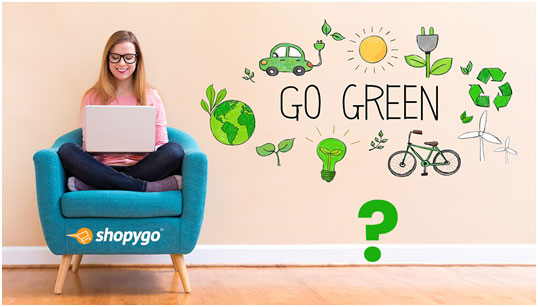 Eco-friendly shoes favor you to go green with nature. There are numerous advantages of shifting from traditional footwear to more eco-friendly footwearLet's now find out how wearing sustainable shoes became an added advantage to you:
1. Environment friendly
As the name says, eco-friendly shoes made with sustainable materials are environmentally friendly. They are easily compostable and degradable. They will not harm the soil in any way, even if they are disposed in a landfill. It's natural to feel guilty of wearing traditional shoes if you're a conscious person who feels a feeling of commitment towards the environment. The best part about wearing eco-friendly shoes is that you won't feel bad about it.
2. Absolute cruelty-free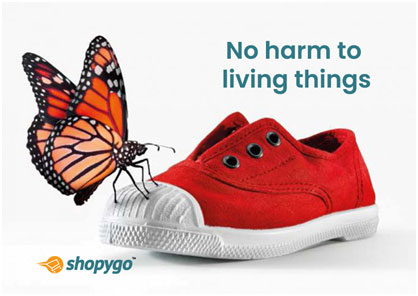 Sustainable shoes are made from plant-based materials. That means they are absolute cruelty free. If you think that every creature on this earth has the right to live, then buying eco- friendly shoes is what you need to do. Eco-friendly shoes can be created with a variety of leather and plastic alternatives. These alternatives are not just durable but also easy to find.
3. Comfortable wear
Eco-friendly shoes are comfortable than the normal footwear. The shoe is made without any chemicals or toxic elements, so you won't feel uncomfortable or itchy even if you wear it for a long time.
4. Biodegradable shoes without plastic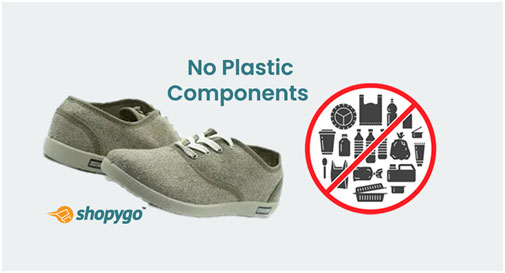 Most of the normal shoes are made of plastic, might not be completely made of plastic, but they do contain plastic in patches, here and there. It's only when you start using biodegradable shoes that even those shoe companies which are manufacturing shoes with conventional materials like plastic and leather will take to making shoes with biodegradable materials. So, by wearing eco-friendly shoes, you can decrease the production of shoes made with plastic and other non- biodegradable materials.
5. Reduces the waste in the landfills
Almost everything we throw out falls to soil. And, on average, shoes and footwear take 50 years to degrade, where few materials take more time. Moreover, the toxic components used in footwear can contaminate the earth. So, in order to reduce this, you can start using eco-friendly footwear.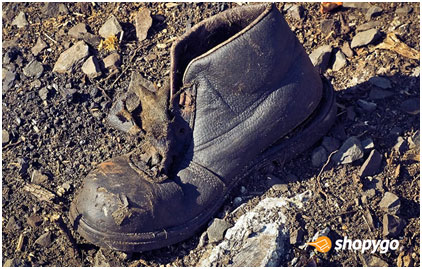 6. No compromise on style
Eco-friendly footwear is not only comfortable to wear, but also highly fashionable. So, if you're a fashion-forward individual who won't compromise on style for anything, the good news is that you can keep your style while wearing eco-friendly shoes.
7. Durable and Recyclable material
People are confused whether eco-friendly footwear will last longer. Yes, because eco-friendly footwear is manufactured from environmentally friendly materials. They are built of high-quality components that will last for a long time. These items are also designed to be recyclable.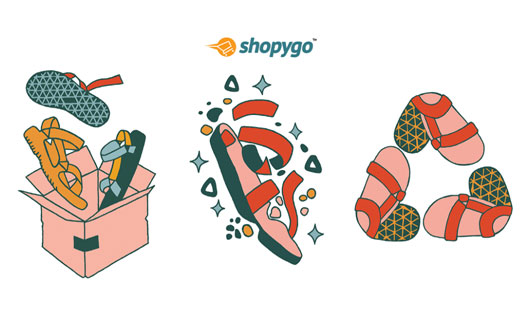 8. No high cost
When compared to standard footwear prices, eco-friendly footwears are not much expensive. They are almost on same level with regular footwear in terms of price. Never expect eco-friendly footwear to be cheaper than the normal footwear as a lot of work and effort has been put into making of these types of footwears.
9. Different forms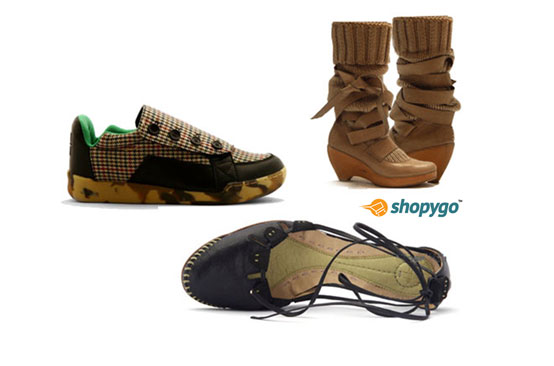 The eco-friendly footwear comes in different sizes, shapes, designs, and varieties. They also promote recycled designer wear which looks fancy. There are sliders, shoes, sneakers, sandals, heels, wedges, etc., from to choose for your footwear. You can also choose eco-friendly shoes based on the material used in making the footwear.
How Eco-Friendly Shoes are made?
The production of eco-friendly shoes is using sustainable products. For eco-friendly shoes, natural and bio-degradable materials are used. These shoes eliminate the use of plastic from shoes and are manufactured in a certified ethical factory. The source of a pair of shoes' fabrics, as well as the product's durability, can affect its long-term sustainability.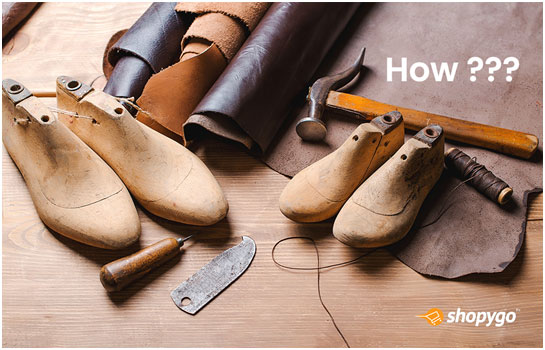 Natural fibers, as well as repurposed and recycled materials, can be used as sustainable shoe materials. Fibers are sourced from mushrooms, apples, and even cactus in the plant-based vegan leather business. In addition, shoe soles are also being made with materials such as cork and algae.
Need of sustainable materials in Eco-Friendly Shoes
A typical pair of shoes contains 65 components, and each pair releases more than 13 kg of carbon dioxide. It is therefore important to find more sustainable materials for footwear. Even the manufacture of a pair of shoes contributes to water usage, rain forest devastation, greenhouse gas emissions, microplastic pollutants, and landfill waste. So, when you look at the sustainable materialsthat are used in shoes, you also need to look athow that crop was grown, the way in which materials are created and, also the production processes that are used. These all have an impact on the environment and the sustainability.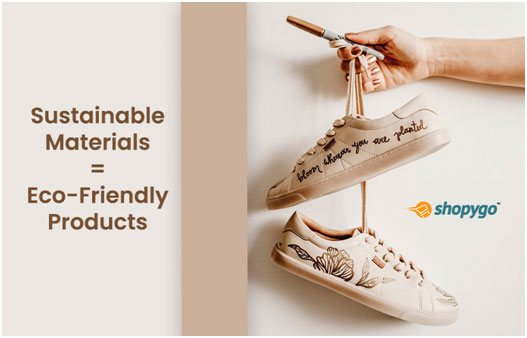 Natural fibers, as well as repurposed and recycled materials, can be used as sustainable shoe materials. Fibers are sourced from mushrooms, apples, and even cactus in the plant-based vegan leather business. In addition, shoe soles are also being made with materials such as cork and algae.
12 Best Shoe-making Ideas for Eco-Friendly Shoes
Let's now have a look on some of the best sustainable materials and ideas that are used for making eco-friendly shoes:
1. Cork Leather
Making a shoe with Cork leather is one of the best ideas for eco-friendly shoes. Cork is an ecologically sustainable material that is fully natural, renewable, and quickly replenishable. The bark of cork oak trees is used to make cork leather. It is made from a collection of dead cells found in the bark of the cork oak tree.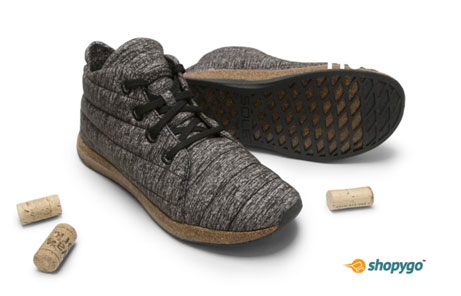 Cork is harvested without harming the tree and is a naturally renewable resource as it grows again after each harvest. Cork is a recyclable material that comes from a sustainable and renewable source. Cork leather is biodegradable and will decompose in the environment at the end of its life cycle. So, making a shoe with cork leather will always be an added advantage.
2. Wool
Wool materials for eco-friendly shoes are generally created from Merino wool, which uses less energy in the wool processing than materials used in traditional synthetic shoes. Merino wool is a permeable fiber that keeps your feet fresh. This eliminates the need for socks when wearing wool shoes. Merino wool also contains antibacterial characteristics, which keeps your feet healthy and prevents odors accumulating in your shoes. So shoes with this type of wool is another best idea for eco-friendly shoes.
3. Organic Cotton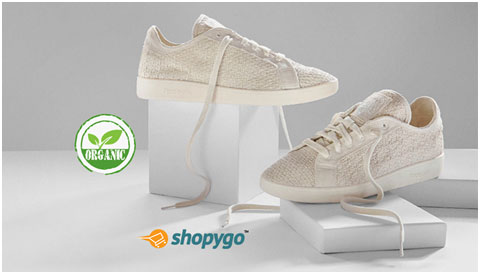 Cotton is one of the most widely used materials on the planet, however it is not produced in an environmentally friendly or effective manner. As a result, organic cotton has become more popular in fashion over the previous decade. Pesticides, fertilizers, and hazardous chemicals are not allowed in the cultivation of organic cotton. So, this material has emerged as a best and significant idea in the production of environmentally friendly footwear. Handmade organic cotton shoes that are naturally hypoallergenic, dust mite resistant, and durable have been a tremendous success for several companies.
4. Bamboo
Bamboo has proven to be one of the most versatile, functional, and environmentally friendly materials on the planet. Bedsheets, bowls, and glasses, as well as curtains, have all been given a bamboo makeover in recent years. Bamboo shoes are now being produced by a growing number of footwear companies. Bamboo is a great material for eco-friendly shoes because it uses a fraction of the resources that traditional materials like leather, suede, and cotton do. Thus, making eco-friendly shoes with bamboo is one of the efficient ideas you will find these days.
5. Pineapple Leather
Using pineapple leather is another important idea for making eco-friendly shoes. The natural pineapple fibers have proven to regulate the temperature inside your shoe reducing foot sweating. Pinatex is the name given to pineapple leather, a natural fruit fiber leather replacement that was produced over a period of several years.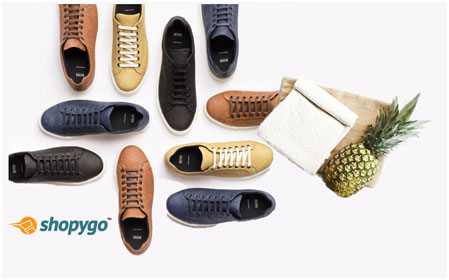 They are a cruelty-free, natural, and sustainably sourced material. The fibers are degummed and then put through an industrial process to create a non-woven mesh, which is the foundation of Pinatex. Pineapple leather tanning also requires less water, produces less waste, and does not contain any toxic chemicals or animal materials.
6. Recycled Plastics
Reusing and recycling plastic as much as possible is one of the best things we can do to help reduce plastic pollution. Shoemakers have found that they can now build eco-friendly and fashionable shoes out of plastic garbage. So, using recycled plastics now turned as a best shoe-making idea. Recycling helps to reduce plastic waste while also offering non-biodegradable plastic a second chance at life. This is preferable to use virgin plastic, such as polyurethane. We can decrease plastic pollution by repurposing garbage. As a result, recycled plastic is now a long-term material for eco-friendly footwear.
7. Hemp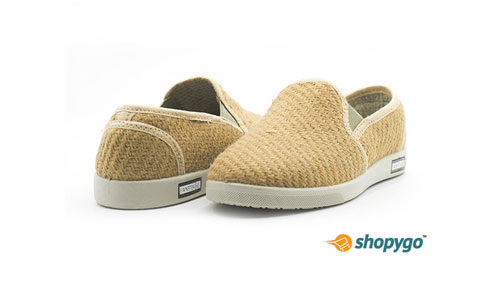 Hemp is a chemical-free plant that grows well without pesticides, fungicides, or herbicides. Nowadays, shoe makers use sustainable hemp material as a best idea for eco-friendly shoe production. Hemp shoes are organic, eco-friendly, and breathable. It breaks in well when used in footwear since it softens with use. Hemp is hypoallergenic, which means it won't irritate your skin, and it regulates temperature, so your feet won't sweat. Hemp shoes are long-lasting because hemp fibers are exceptionally durable. As hemp is a natural fabric, it will decompose over time, leaving a much less carbon footprint than synthetic vegan leather.
8. Cactus Leather
Cactus leather is one of the most recent eco-friendly vegan leather fabrics. The leather is made from the leaves of the nopal cactus, also known as the prickly pear plant. Cactus leather is in the top list of sustainable shoe materials in terms of environmental protection.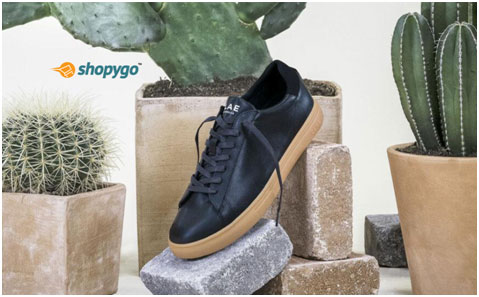 Cactus leather is a great choice, as it is organic, soft, breathable, elastic, and partially biodegradable. This type of leather is also developed as a best idea for making eco-friendly shoes
9. Natural Rubber
Natural rubber, made from latex, is obtained from plants and predominantly the rubber tree and is eco-friendly. The rubber tree is an environmentally friendly, long-lasting crop that contributes to the global carbon balance in the atmosphere. Rubber is utilised in the automotive industry for more than half of what is collected, but it is also used in the footwear industry. Natural rubber is most commonly used in the soles of shoes, but it is also used to produce wellington boots and flip-flops.
10. Coconut Fibre
Coconut fibre, or coir, is a natural cellulose fibre made from coconut husk. It's the fibrous layer that lies between a coconut's outer covering and its hard inner shell. It is one of the greatest sustainable materials for shoes because it is eco-friendly and originates from a natural and renewable source. In the midsole of shoes, coconut coir is frequently used. As a result, shoes manufactured of coconut coir are both environmentally friendly and long-lasting. Midsoles and insoles made of coconut coir are light and pleasant. Coconut fibre is also used to make flip flops and other sandals. The fibres are 100 percent biodegradable and have a long-life expectancy.
11. Eco Microfibre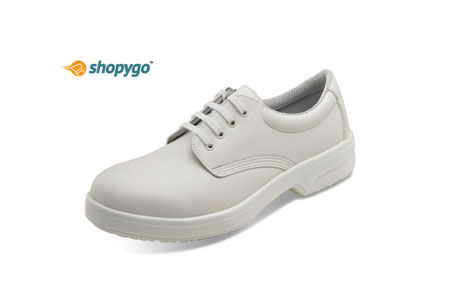 Eco Microfibre, often known as Vegan Leather or Faux Leather, is a man-made material that offers a good replacement to leather. It is made from a water-based and solvent-free polyurethane with a polyester lining. Similar in texture, look and feel to real leather, it is versatile, hard wearing and 100% vegan. It's breathable, machine washable, simple to care for, and long-lasting. Although eco microfibre has a major environmental impact and is not a long-term solution, it is more environmentally friendly, less poisonous, and safer than dealing with actual leather.
12. Frumat Apple Leather
Apple leather is manufactured from an apple juice industry waste. The vegan leather is made from apple cores and peels, which are an agricultural waste product. Frumat apple leather is made up of a 50/50 mix of dried apple powder and polyurethane. Because polyurethane is a petroleum-based plastic, it reduces the sustainability of Frumat apple leather, despite the fact that the apple comes from a natural renewable source.
Best Eco-Friendly Shoe Brands
When looking for eco-friendly shoes, there are three important elements to consider:
Whether the shoes are genuinely long-lasting and durable,
Whether the materials are recyclable,
Whether the materials are renewable, meaning it's more environmentally-friendly to produce than a conventional material.
Let's have a look on some of the best brands producing eco-friendly shoes:
1. Allbirds Sneakers
Wool from merino sheep is used in the Allbirds Wool Runners shoe, as well as recycled bottles, castor bean oil, and recycled cardboard. You can't go wrong with this brand, which is contrary fashion and one of the most transparent large corporations on the market. All of their shoes are constructed primarily of wool derived from healthy ethical farms, tree parts sourced from Forest Stewardship Council-certified groves, and/or SweetFoam, the world's first green, carbon-negative EVA.
2. Veja's The Condor
This shoe brand is committed to producing ethical footwear. The Condor running shoe features bright colours and is composed of 53% recycled plastic and natural materials such as rubber, organic cotton, and rice trash. Veja's rubber soles are created in Brazil from properly managed forests, according to their website.
3. TOMS Earthwise
TOMS is well recognised for its one-for-one charity business model, in which the company partners with NGOs to provide new shoes to children in need. Earthwise, their new line, is constructed of vegan and environmentally friendly fabrics like hemp, cotton, and recycled polyester. All-natural plant dye is also used to colour the shoes.
4. Suavs
Suavs' shoes are light, comfy, and well-designed, making them a versatile choice for travel, business, date night, and everything in between. Suavs calls the shoes "100% recycled digital knit," which is a fabric made from post-consumer recycled water bottles that is incredibly soft and flexible. Everything is thoroughly tested to ensure that it has the least possible environmental impact, with a particular emphasis on reducing material waste during sourcing and production.
5. Sanuk
This laid-back California beach-town firm has long experimented with groovy and eco-friendly footwear designs created from hemp, vegan materials, and recycled materials. To fight the environmental damage left in the aftermath of rapid fashion, they also provide a variety of machine-washable styles to extend the life of the shoes.
6. Timberland
Timberland, long the hip-hop set's favourite footwear, has set a lofty aim for itself: by 2030, all of its goods will have a net-positive impact on the environment. They want to combine circularity, regenerative agriculture, repurposed trash like scraps of wool and leather, and more natural materials into their shoe production process to reach this noble and challenging goal.
7. Nothing New Low Top
This eco-friendly footwear firm was just founded with the purpose of providing beautiful, eco-friendly sneakers. Nothing, as the name says, new shoes are manufactured entirely of recycled materials such as recycled plastic, cotton, fishing nets, rubber, and cork.
8. Adidas X Parley
The sportswear behemoth partnered with environmental nonprofit Parley for the Oceans in 2015, vowing to use 100% recycled plastic by 2024. As per their website data, the company has created 11 million pairs of shoes out of recovered plastic rubbish, saving 2810 tons of plastic from being dumped in the ocean. This model has rubber soles and is designed for long-distance trail running.
9. Cariuma Catiba Low
Premium materials, including as suede and cotton canvas, as well as vegetable-dyed leather, are used to create this classic-looking shoe. The bottom of the insole is made of memory foam, and the container is made of recycled and recyclable materials.
10. Tread by Everlane
This brand is recognised for its clean aesthetic, and the sneakers are no exception. Tread Trainers, are not like Allbirds, as it is made from traditional shoe materials that are either recycled or sourced from a sustainable source. The sole of the Tread is almost entirely plastic-free (using recycled rubber instead). The shoe's leather comes from a tannery that has been awarded gold status by the Leather Working Group, an organisation that maintains environmental standards for leather.
There are some companies that are passionate about preserving our planet for us and for future generations. We have a new generation of shoe designers that are actively looking for sustainable materials for footwear, and practices that respect the planet. The huge progress made by different companies using eco-friendly materials is helping to transform the conventional manufacturing world for the better. Today, most of the world's largest shoe production firms, such as Nike, Reebok, and Adidas, are now creating more footwears manufactured from environmentally friendly materials. If you're in the market for a new pair of shoes and want to limit your environmental impact, purchasing eco-friendly shoes is a good solution.