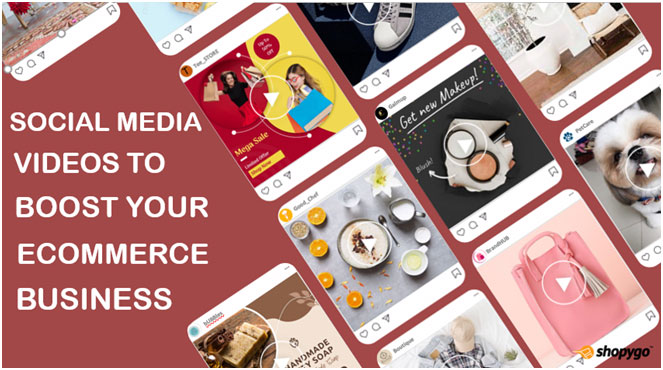 Videos play an important role in the evolving E-commerce Industry, be it about a brand advertisement, precise product description or promotion. The successful business marketers are delivering visual content consistently through the different social media channels. Videos are becoming a significant part of social media promotion among the small and large business sectors. Considering social media as the most engaging communication channel for the audience, visual content is more promoted as it is more likely to get shared than all-text content.
If you want to stand out in the e-commerce market, you need to be a step ahead from all your competitors. When you look around, you will realize that your top competitors already rely on stunning video content to capture the target market. So if you don't want to get left behind, you need to begin implementing a good social media video marketing strategy for your e-commerce business.
Leverage the power of Video Marketing to make your product or brand popular among your potential customers.
1. Video Marketing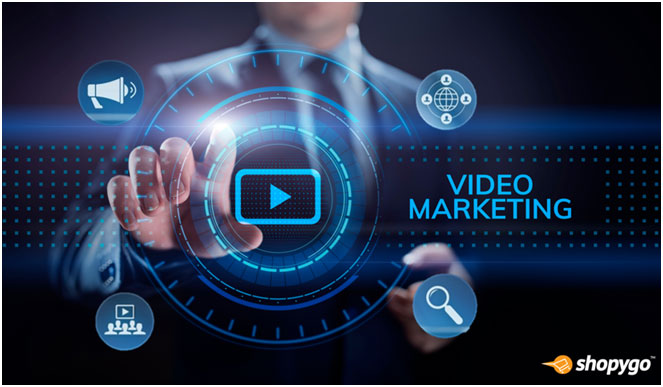 This is considered as the basic factor, but it makes sense and a difference in your business. You have to check whether you are really passionate about it? Or What would you do in your free time? Finding a field about which you are both knowledgeable and passionate is the perfect balance for determining your niche. If you're working in a business that you don't like, your chances of leaving are much higher particularly if you're a first-time business owner. This does not suggest that you must find the perfect match. If you are enthusiastic about a particular aspect of the market, you will continue with it. If you don't care about the topic, you might not be able to find the reasons to continue going.
Right now, social media users are paying more attention and giving their likes, comments, and shares for video content than others. Because people quickly react as the various platforms make it easy for everyone to voice out their opinions. Thus, it is not surprising at all why videos hold a strong influence on the viewers. If you want to create leads and convert them into loyal clients, you need to start creating amazing informative videos for social media.
2. Company Culture Videos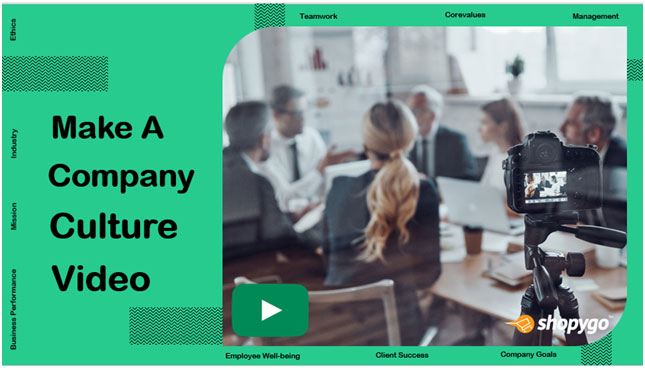 A company culture video offers the audience a quick look into your company and working environment. If you want to make an impact with your target customers, you need to tell the unique story of your brand. These include talking about your brand and company, showcasing the company's high-level vision, mission, products or services and visualizing employees in the natural work environment, brainstorming with teammates, or reaching out to prospects. So, these convey your clients what your brand is all about. When you gain more trust among people by telling more about your brand, they see your company and products as something they can't keep away from.
3. Tutorial Videos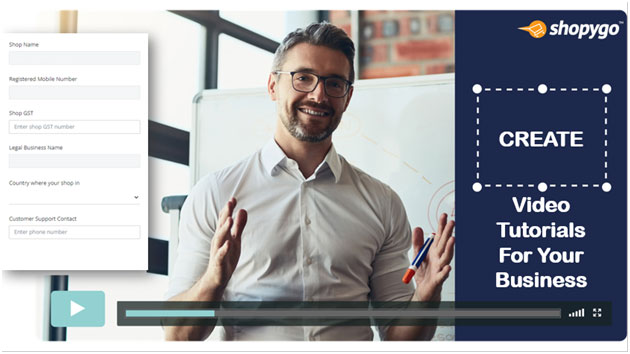 Tutorial or How-to-do Videos are important for every Business. If you have ever tried to learn something online, you might find that learning through videos is much easier than learning through other content formats. So, it is a huge opportunity for you to add value and engage your audience through videos and demonstrating how to do certain tasks. You can do tutorial videos for your products as well as any other general tasks relating to your business, market and industry. Since it's for social media, you'll need to keep them short so as not to lose people's interest and attention. This is where it gets a little tricky because you still need to make sure that you're conveying the information clearly for everyone to understand.
4. Product Close-Up Videos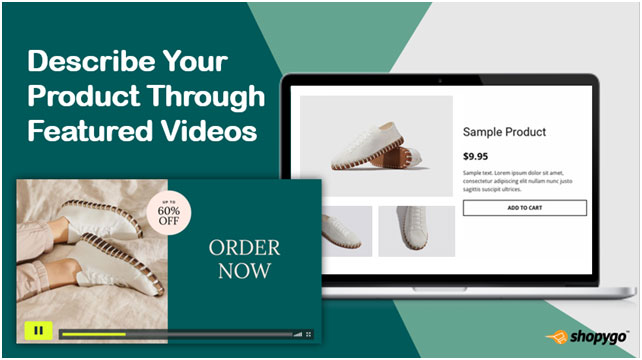 Customers want to see the videos of your product that makes them feel as if they are holding it themselves. Product close-up videos may include zooming your product and displaying specific features that viewers may not see in pictures. It can also demonstrate a function that has to be observed very closely and to simply show off your product from multiple angles. If you want your clients to see the details and nuances of all your products, then a close-up video is a must one. With close-up videos the customers will have a clear understanding of what they're buying.A product overview video goes deep into the features and benefits of your product. This overview offers so much more than a close-up video. You can showcase an overview of the product, discuss its purpose, features, pricing structure or even highlight a specific feature for each video. As it's an informal social media video, it's going to be much more authentic than a video advertisement, which can seem too polished and promotional in the eyes of consumers.It can include a product demo video that usually features a speaker demonstrating how the product works and why your audience should consider buying it.
5. User generated Videos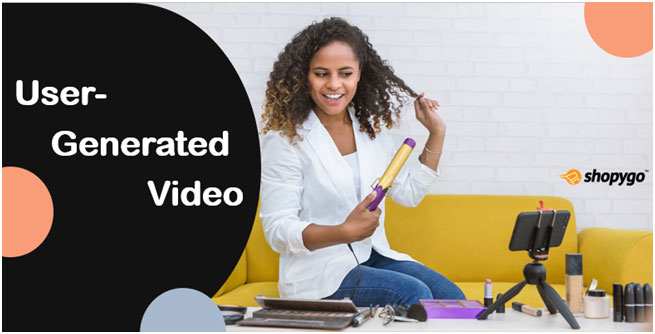 Social media videos are so impactful, but not everyone is creating them because it is extremely time-consuming to create videos. It's not only capturing videos; you also have to edit them to fit your brand identity and social platforms. The whole process can take some time in many instances. So, instead of sharing original brand-created videos every time, you can get your loyal customers involved by sharing some of their videos. If you're already an established brand, you probably have a ton of people creating high-quality content featuring your brand. In addition to engaging your followers with fresh content, sharing user-generated videos gives you a good opportunity to show your appreciation for their loyalty.
6. Interview and Q&A Videos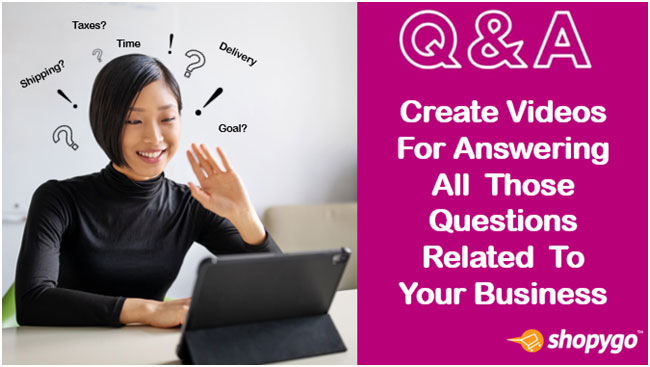 Interview and Q&A videos are another video format to engage your audience. Create videos of interviewing industry leaders and influencers, team members, or even customers. You could keep your fans more engaged by collecting their questions by making an announcement beforehand and gathering their questions through social media. Combine the questions to fit your theme and also have a solo Q&A session where you address your audience questions. You could also experiment with live videos, this allows you to connect with the audience more effectively as you are maintaining a conversation with them in real time.
7. Event Videos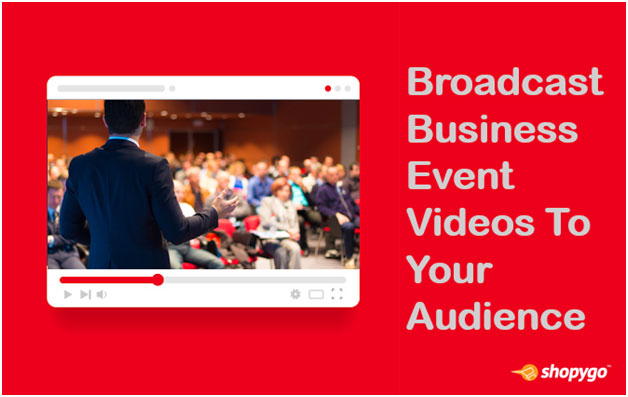 Videos are much more effective for the posts about your events and to trigger your audience's fear of missing out. Event videos give the audience a more realistic picture of how exciting the event is. Live videos are ideal if you want to broadcast the entire event to the audience, it gives a real-time glimpse of what's happening. However, it may not always be possible to go live during the event and also people don't always have the time or patience to watch a full-length video. The best solution here is to create teaser and short videos that show the bits and pieces of the event.
8. Social Stories Video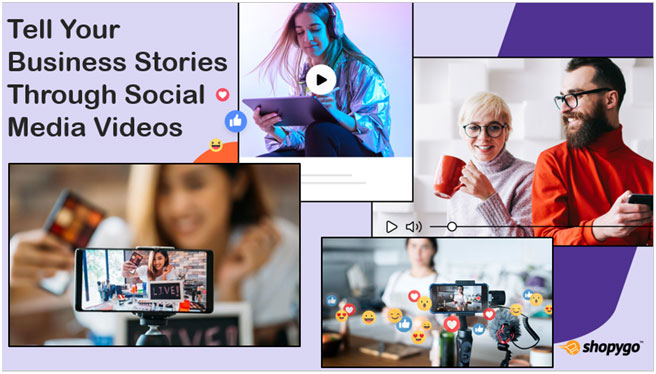 Social media videos can be used to tell the stories that your customers can relate to. The story should be centered around your brand, your products and services, or relevant to the industry in some way or another. You can showcase client stories or stories of industry influencers, for instance.
9. Pitch Deck Videos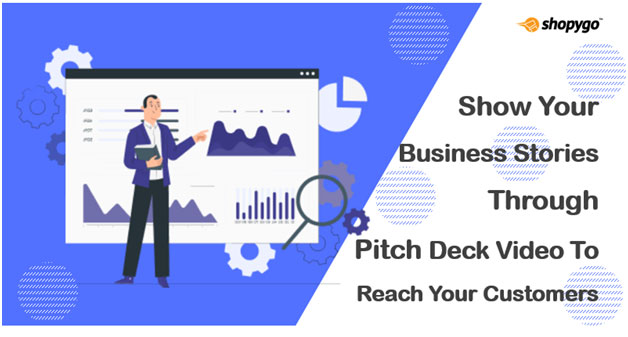 A pitch deck is a presentation that provides a brief and informative overview of your business. Having an impressive pitch deck is a key component for your business marketing. Pitch deck presentation videos should cover the key points of your business mission, plans, products and services, financial projections and funding needs. You can use these types of videos to tell the story of your business.
10. Founders' Message Videos
A message from the Founders of the company can be a powerful tool in the social media video strategy. Featuring the company leaders is the best way for personalizing a brand and developing good connections with the customers. This type of videos can showcase your company values and culture. It also can include new product or sales announcements, appreciation videos for customers' loyalty.
To generate more prospects and client engagements, you need to start capitalizing on social media videos for your e-commerce business. Sharing these videos on various social media channels keeps you connected with loyal clients and possible leads. Visual contents are proving as the most brilliant and fresh content marketing strategy for a business. Start strengthening your social media marketing efforts to engage your audience